_related_users
News
Life after Radford with Monique Doubleday (Class of 2013)
Monique Doubleday (Class of 2013) has recently returned to the College to work with Mr Nick Akhurst as a Teaching Assistant for the upcoming Radford Performing Arts Production - The Addams Family. We took the opportunity to chat with Monique who shared her Life after Radford journey with us and advice to current students.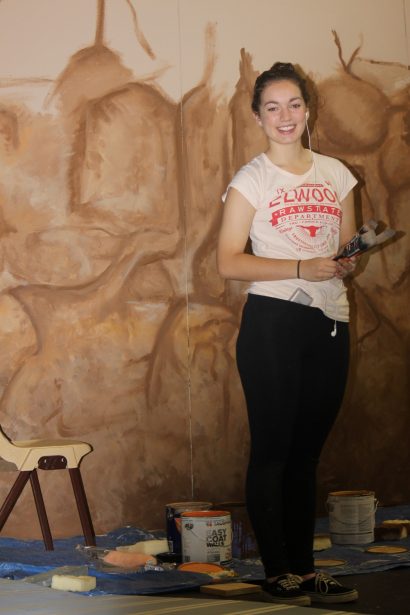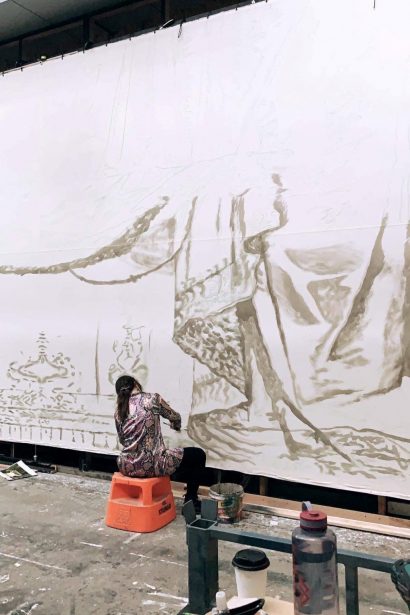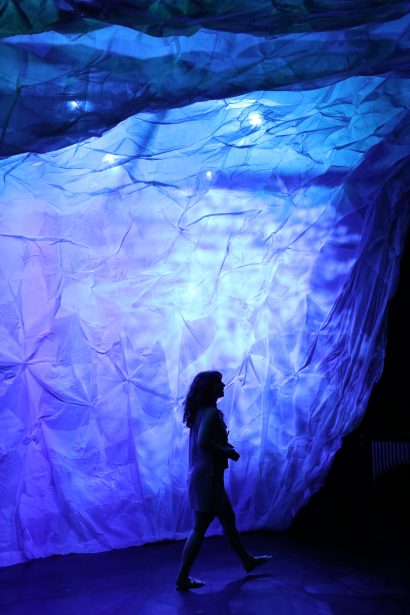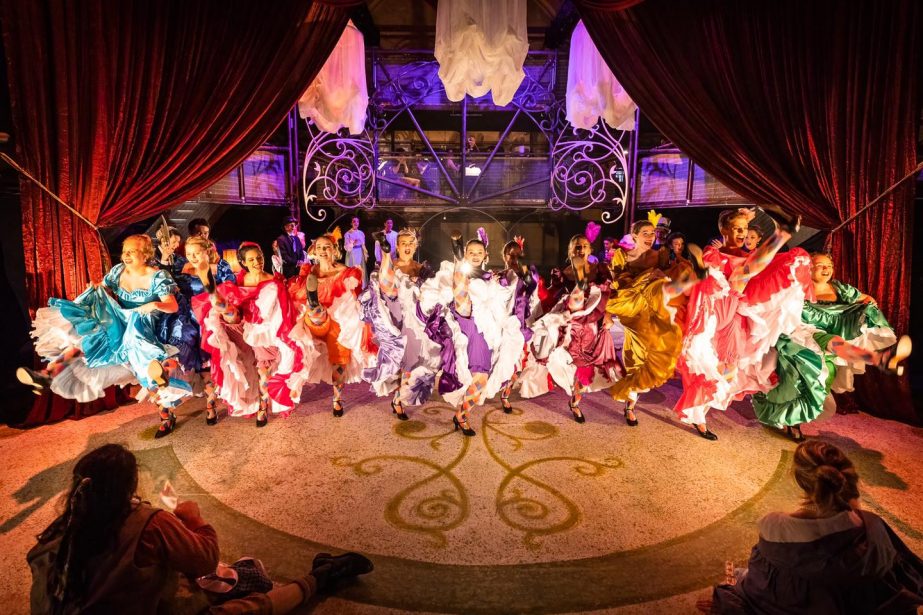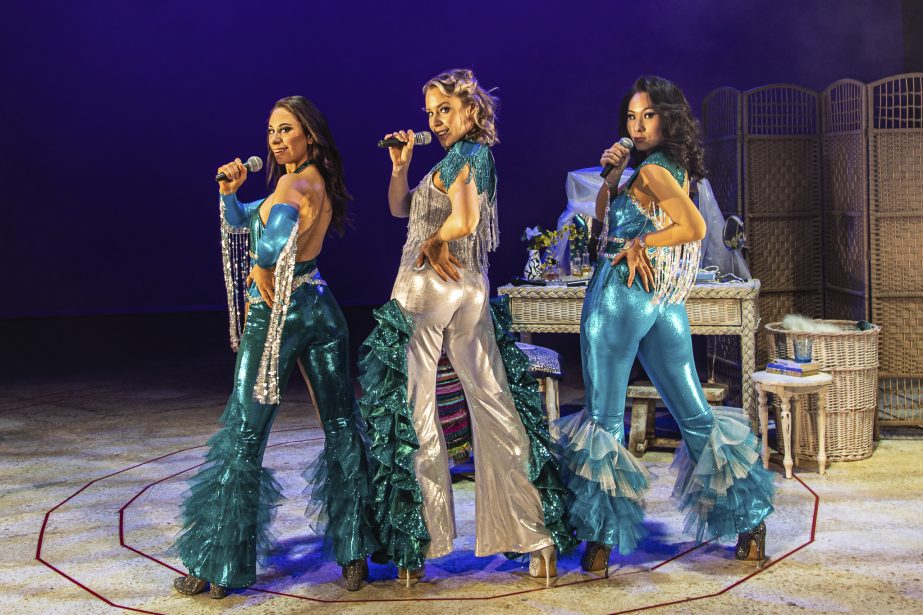 Monique Doubleday (Class of 2013) has recently returned to the College to work with Mr Nick Akhurst as a Teaching Assistant for the upcoming Radford Performing Arts Production – The Addams Family. Monique shared that there is a sense of nostalgia being back at the College and is grateful for the opportunity. Whilst being busy with this role, Monique will also commence working with a Canberra based events company.
When Monique was in Year 10, she was introduced to Technical Drama. At the time Mr Akhurst put Monique to work to fix up some of the scenic painting of the set design for the theme Shakespeare at the Oscars. It was from this point that Monique fell in love with Theatre Design. Monique assisted on just about every major Radford production up until she graduated. Monique was even able to study technical drama as a Major-Minor in Year 11 and Year 12. "I knew it was what I wanted to do but when the time came, I just wasn't ready to leave Canberra to follow my dreams" she said.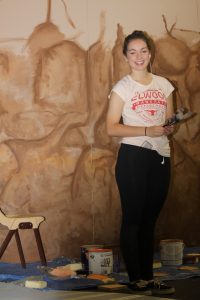 Monique's family has always been her biggest support, however she shared that her parents made it very clear that if she were to move to another state to attend university, that she would have to pay her own way. "Looking back, I think they just said this to scare me- and it worked! I panicked and enrolled in a course that made no sense. In 2014 I went to the University of Canberra and began studying Marketing and Advertising. In my mind I thought, if I couldn't do what I wanted to do maybe I should do what I'm "expected" to do. I'm the only creative member of my family so I felt pressure to chase a more "stable" career" she shared. 
With the mounting pressure of doing a course that Monique clearly did not enjoy, she dropped out of University after 6 weeks. Monique took the remainder of the year to do a little "soul searching" and went to volunteer in Cambodia.
Monique shared that the experience in Cambodia changed everything for her. The volunteering itself was fulfilling, but ultimately the experience allowed her time to reflect and realise that to be happy she needed to continue down a creative path. Upon her return to Canberra, Monique resumed her studies at the Canberra Institute of Technology (CIT) to undertake an Interior Design course. After two years, Monique had achieved an Advance Diploma and was getting ready to transfer back to the University of Canberra to complete a third year of study and gain a Bachelor of Interior Architecture.
Whilst studying was back on track, Monique admitted that she was unable to get Theatre Design out of her head. In 2017, Monique took another year off study and put all her eggs in one basket, she worked full time to save money in the hopes of being accepted into Western Australian Academy of Performing Arts (WAAPA) at the end of the year.
Monique worked as an Events Supervisor at the National Gallery of Australia and a Melbourne based company The Big Group. Monique shared that she loved this job and it presented her with incredible opportunities. Monique worked on a multimillion-dollar Wedding in Kuwait for DesignLab Experience, and event where Nicole Scherzinger was the lead performer- how wild is that!
"Working in this role opened my eyes to a whole new career path and I loved every second I was in the event industry. However, after a year I packed my bags and moved across to Perth after being accepted into a Bachelor of Performing Arts (Production and Design) at WAAPA. Have you ever watched Glee or any tacky musical film like High School Musical? Because life was sort of like that for 3 years. My course was hard, it pushed me creatively and just about took its toll on my mental and physical health, but only because I whole heartedly loved it and put 200% into everything I did".
Monique shared that she credits a lot of who she is today to her years at WAAPA. "I'm proud of the person and designer I've turned into. I'm also glad I waited until I was 22 to move and follow my dreams because looking back, I wouldn't have been ready straight out of school and needed that time to mature and mentally prepare myself" she said.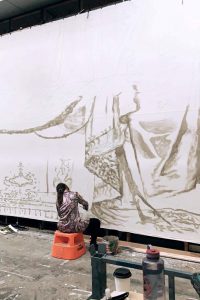 In November last year, Monique returned to Canberra from Perth. "I'm still getting my feet on the ground, I really need to take a few months to myself around the holiday period with some much-needed down time, then all of a sudden my life has really taken off", she shared.
Monique started working as a freelance artist taking commissions for canvas paintings and now murals. "I have some really exciting projects coming up that I can't wait to share with everyone". Monique also works at Canberra Repertory Society as a Costume Designer and is happy to be part of her first post Uni show Cosi. 
Monique's role model and inspirational figure is her mum. "I love my parents equally, but after I got through the awkward teenage years, I wanted to be just like her. We are in fact so similar and she has become my best friend. I know I am so fortunate to have an inspirational woman like her in my life". Monique further added, "She is such a role model and has always been my number one supporter. She is bias, without a doubt, but in her eyes I'm the most talented designer and artist". In figuring out what direction she was going to go in, Monique admitted that she has got lost a few times, but these times have been made easier by having someone constantly by her side to push her in a creative direction. "My mum has taught me what hard work looks like, so I know that if I dedicate myself to a career, the way she did that I'll be successful", shared Monique.
When we asked how easy it was for Monique to decide what she wanted to do in life, her response was "I am, still figuring it out, and it's okay not to have all the answers, it's somewhat exciting not knowing exactly where I will end up because that means I am open minded to new opportunities. One door may open after another and lead me to my dream career. The only thing I did decide early on its that I wanted to live a creative life and design, but exactly what field I will end up designing in is still a mystery". Monique added, "I think it's important to figure out what your passionate about and pursue that, but you don't need to have all the answers".
Whilst at Radford, Monique shared that her favourite Radford moments were being involved in Year 12 Revue and Year 9 camp. Year 9 camp was a wonderful experience for Monique in terms of building resilience and breaking barriers – especially working with a group of her peers that she hardly knew. Monique shared that her and Ethan Mcalister have remained the best of friends since this camp. Monique further shared that she wishes that she knew that end of the school day, it didn't matter. "At the time when you are at school, you think grades, making sure that you make all the right decisions and high school romance is the most important thing in the world. Students put way too much pressure on themselves and they think every decision they make when they are 15 will affect them for the rest of their lives. I am not encouraging students to take value away from those things but it's important for students to know that they have the rest of their lives and stress will be a part of that and growing up" she said.
Monique's advice to current students: 
1- Volunteer.
Volunteer in every capacity you can. If you take away just one thing it should be this. I do not just mean taking a trip overseas and giving your time and money to those less fortunate, I also mean taking every opportunity to better yourself for future career opportunities. This is one thing no one told me or anyone else I know growing up, so unless they have changed the curriculum in the last 8 years- listen up! Whilst you're living at home and aren't financially independent, you have the time to volunteer. No matter what field you wish to enter, reach out to every organisation, company, small business etc and offer your time. It's such an effective way to open doors and network within an industry that you wish to work for. Soon you won't have time to do so, or you'll need to prioritise paid work and other life commitments. Then when you go for a job interview further down the track, you'll get the job because the 50 other people who applied with the same qualifications as you didn't have the same volunteer experience.
2- It's never too late.
Don't worry about making mistakes because it's never too late to fix them. Dare to be different. Chase your dreams. If you don't have a dream yet, that's okay. It will come and it won't be too late. If there is something that is making you unhappy, change it. It's never too late.
3- Keep creative.
No matter what you do you must have one creative output in your life. Whether it be writing, music, dance, painting, photography, the list can go on and on, always keep that one thing. You could have a new creative hobby every week, that's fine, just never give that one thing up. There is power in creativity and the positive benefits that ripple through your life as a result are golden.