_related_users
News
Miriam Rizvi (Class of 2007) on Shark Tank with her children's entertainment group, The Beanies
Not every business needs to make a song and dance when pitching to investors, but Shark Tank Australia Season Five, Episode Four proved children's entertainment group The Beanies are no ordinary entrepreneurs.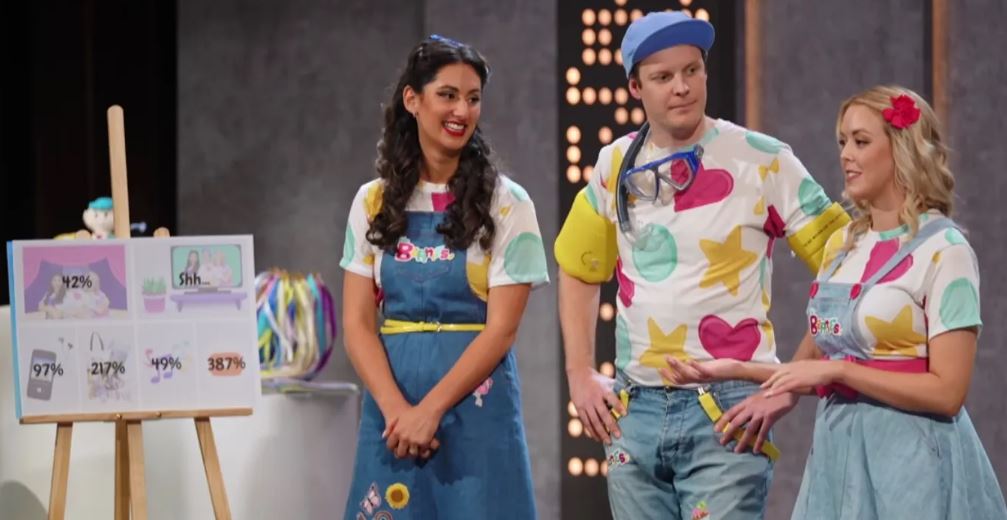 Not every business needs to make a song and dance when pitching to investors, but Shark Tank Australia Season Five, Episode Four proved children's entertainment group The Beanies are no ordinary entrepreneurs.
The group secured a handshake deal with three of five investors after convincing the panel of their talent, drive, and the enormous economic potential of the children's entertainment market.
Mim Rizvi, Michael Yore and Laura Dawson are The Beanies, a singing, dancing, and storytelling troupe whose work covers live performance, podcasts, music, TV broadcasts, YouTube, and merchandising.
Bucking the standard Shark Tank Australia formula, The Beanies structured their pitch like a children's 'learn to count' lesson, pointing out each individual income stream.
The trio also highlighted their core metrics: more than 350 shows, 1.5 million podcast downloads, and 387% growth in YouTube streaming over the past 12 months.
Their pitch, seeking an investment of $150,000 for 10% equity, concluded with a bespoke musical number — an unorthodox approach, but one which was authentic to the business itself, Rizvi told SmartCompany.
"As The Beanies, we really put ourselves on the same level as children in everything we do so, they can feel free to play and learn with us," she said.
"But obviously, the sharks are adults, and very established business people. So it was a very unusual thing for us to do, because we still wanted to remain true to who The Beanies are, but also put across some important facts and business knowledge".
Unlike other businesses with a tangible, physical product, "We kind of had to show our performance through our pitch," Rizvi continued.
Kid's entertainment is serious business
While the pitch was light-hearted, the global children's entertainment business is a very serious economic force.
As mentioned by Shark Tank Australia investor Rob Herjavec, the American studio behind smash hit entertainment brands CoComelon and Blippi sold to a venture capital firm for US$3 billion in 2021.
Closer to home is Bounce Patrol, the Melbourne-based entertainment group whose YouTube channel boasts nearly 28 million subscribers and around 20 billion cumulative views, according to social media metrics aggregator SocialBlade.
Of course, there are The Wiggles, the Australian export which has grown over decades into one of the most recognisable entertainment brands on Earth.
The Wiggles served as a benchmark for the Beanies' pitch, Dawson told the panel, with Rizvi noting the perennial market for children's entertainment.
Ensuring those kids have access to suitable entertainment, as opposed to the bizarre and mind-melting content that does find its way into the overlooked corners of the internet, is becoming more important, Rizvi added.
"There are a lot of kid shows where there are just kids unboxing things, or kids throwing cars in a pool, and things like that," she said.
"And while that content is captivating for children is not always what's best for them. We really wanted to make content that was captivating, as well as helpful to parents and stimulating to the imagination."
Reaching the 'iPad kid' generation through YouTube and broadcast
The pitch proved compelling for Herjavec, Jane Lu, and Davie Fogarty, who all vied for a piece of the action.
owever, with a consensus that $150,000 for 10% equity was too risky for the business, they proposed a three-way deal, offering $150,000 for half of The Beanies.
The performers countered, offering a 40% stake, which the remaining sharks agreed to.
Rizvi said the deal has changed considerably since filming.
The makeup of the investing team has changed, she said, with the precise terms of the deal under wraps through an ongoing due diligence process.
However, the continual presence of Shark Tank Australia investment expertise is yielding solid business advice, with The Beanies now focusing on YouTube and their TV presence, and plans to expand their live performance slate.
Rizvi, who has previously benefited from the Accelerator for Enterprising Women, said the experience proved "people want to see you be you".
"I was a bit worried we'd get laughed out of there," she said.
"But I think as soon as we started showing exactly what we were about, and doing Shark Tank, Beanie-style, they really liked that."
Read more about Shark Tank Australia here. 
Content and photo: Smart Company
Read the Life after Radford journey on Miriam Rizvi that we shared in 2020: Life after Radford with Miriam Rizvi (Class of 2007) – Radford Collegians