_related_users
News
Introducing our 2022 Collegian Captain – Vishnu Muthiah
We are proud to announce that Vishnu Muthiah and Lucia Volker Smith are the 2022 Collegian Captains.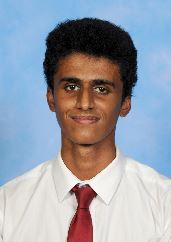 Each year, Radford College selects two students to represent the Collegians. The captains are responsible for being the point of contact for all year group matters, engaging the cohort in collegian activities and events, attending our yearly reunions and be their year group ambassador following graduation to continue the connection with Radford.
We look forward to working with Vishnu and Lucia this year.
Here is a Q&A with Vishnu and hope to share Lucia's in the coming weeks.
What's the biggest lesson you've learned?
The biggest I have learned is that more than anything in this world from money to material possessions to good grades, it is the joy and happiness associated with helping others, making friends and doing what you can to better someone's life (even if that may be as simple as making your bed every day in the morning or saying please and thank you when for example ordering food etc.) that is fundamental in one's life.
What was the best day of the past week for you – why?
The best day of the past week was probably last Thursday in which I got the great opportunity of contributing and helping with year 12 Revue through the role of set construction.
If you could spend one week with a person you admire 
If I could spend one week with a person, I admire it would probably have to be Rafael Nadal because of his immensely profound work ethic, absolute determination, and philanthropic lifestyle. Rafa being one of the best tennis players in the open era continues to play and dominate the world of tennis despite his age of 36 years old and a rare degenerative condition affecting the bones in his feet. Furthermore, Rafa has three of his own foundations aimed at providing at-risk children with educational and sports activities.
Where do you see yourself in 5 years' time?
I see myself hopefully in medical school in 5 years' time studying and training to become a doctor. I would very much cherish and honour the privilege of hopefully becoming a cardiothoracic or neurosurgeon because the lives able to be both saved and changed through this great portfolio.