_related_users
News
Harry the Therapy Dog (and her wonderful owner Megan Kelly, nee Richards Class of 1997)
Harry is a therapy dog, owned by Collegian Megan Kelly (Class of 1997). Harry visits the Intensive Care Unit weekly to help make life a little less 'ruff'.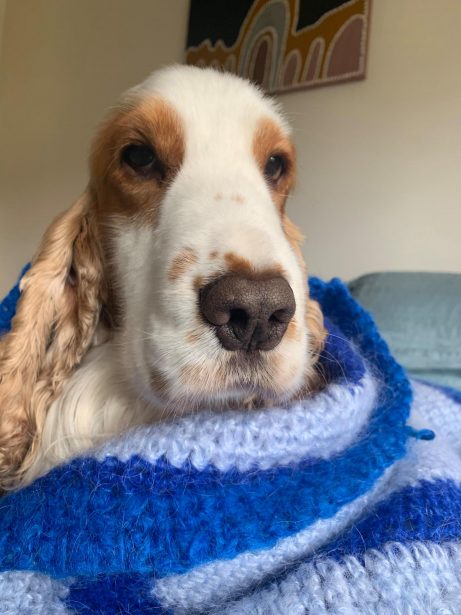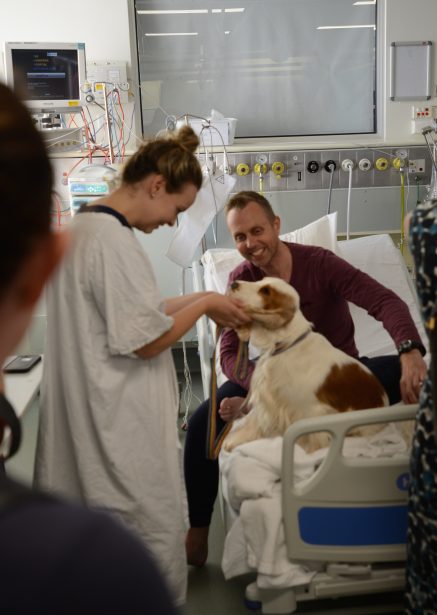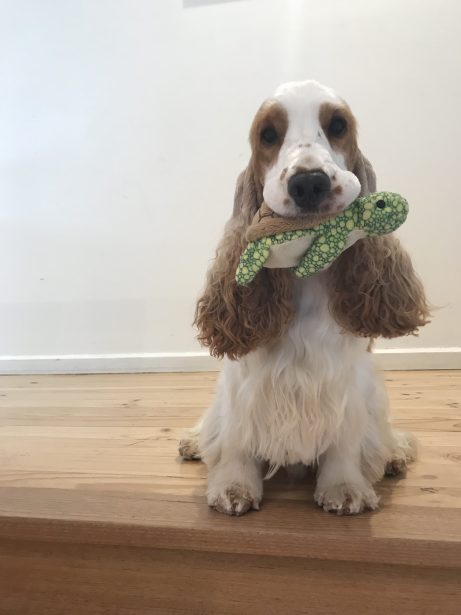 In February we shared a beautiful feel good story about Harry the Therapy dog and how Megan came to own him.
I recently came across a touching article by Katie Golding from the University of Canberra on how therapy dogs help make life a little less 'ruff'.
It's Friday afternoon and Harry has just clocked on for his weekly shift in the Intensive Care Unit (ICU) at Canberra Hospital.
Machines are beeping and buzzing in every direction. Nurses are scurrying around the corridors while doctors monitor critically ill patients.
An intensive care unit can be a confronting and unpleasant place to be. And that's where Harry comes in. His job is to bring a sense of calm and cheer to an otherwise stressful environment.
Harry is a dog.
He's working today with nurse Claire, trying to provide patients, their families and staff with a distraction from the critical circumstances so common in the ICU.
They walk three steps down the corridor and stop for an exchange with a staff member, who gives Harry a scratch behind the ear. They walk a bit further and he receives a pat from another nurse.
Harry the cocker spaniel is a certified therapy dog who is leading Australia's first therapy dog trial in an intensive care unit.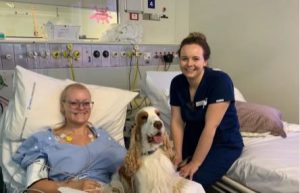 ICU Clinical Consultant, Carly Thornburgh, says the trial is a three-year research project between the hospital and the Delta Dog Society.
"It took us over 12 months [with infection control and other stakeholders] to get our therapy dogs into intensive care," she says.
"I could see the possibility of therapy animals and the impact they could have on our patients."
The goal of the project is to examine how having a dog present can reduce levels of stress and anxiety for ICU patients and staff.
Registered nurse, Kathleen Cook, says the ICU was chosen because the nature of the ward can be a dehumanising experience for patients and their families.
"The lights are always on so it's hard to decipher from day and night and patients can become delirious after a couple of days,' she says. "We just want to soften the environment and give people something to look forward to.
To the best of Megan's knowledge, Harry is the first dog in Australia to work in a clinical area of a hospital – Canberra Hospital's Intensive Care Unit (ICU). Unfortunately, the ICU is a ward frequented by children. There is an abundance of evidence from literature reviews that identify ICU patients as suffering from the effects of dehumanisation related to ICU admission. Additionally, literature demonstrates that while ICU patients' rate healthcare delivery as high they rate the overall experience of ICU hospitalisation as low due to routine, burden, social isolation and disengagement with carers and family.
A project (or goal) that Megan is working towards is the publication of a children's book about Therapy Dogs in Hospitals. The story will showcase Harry in the context of other working dogs to demonstrate how his training has been built on both his love of people and his intelligence. In the story Harry will interact with patients, staff and visitors to bring joy, lower stress levels and lift moods, making the ICU a more positive place. Canberra's native flora and fauna will make this book uniquely Australian. This picture book will prove to be a valuable aid to parents, teachers and hospital staff as it informs children.
Earlier this year Harry was awarded Delta Dog of the Year.
Harry follows a strict infection control regime and certification process to enter the hospital to ensure his free of pathogens, including ethics and senior management approvals.
The hospital staff and patients in the photos have consented to their photos being published for public release.
Follow Harry the Delta Therapy Dog on Facebook and Instagram
Photos and article credit: Junction Journalism