_related_users
News
Congratulations Scott Wrigley (Class of 2006) – Finalist in the 2023 Master Builders Association ACT and Asset Construction Hire Excellence Awards
The 2023 Master Builders Association ACT and Asset Construction Hire Excellence Awards was held at the National Convention Centre on Friday 1st September 2023.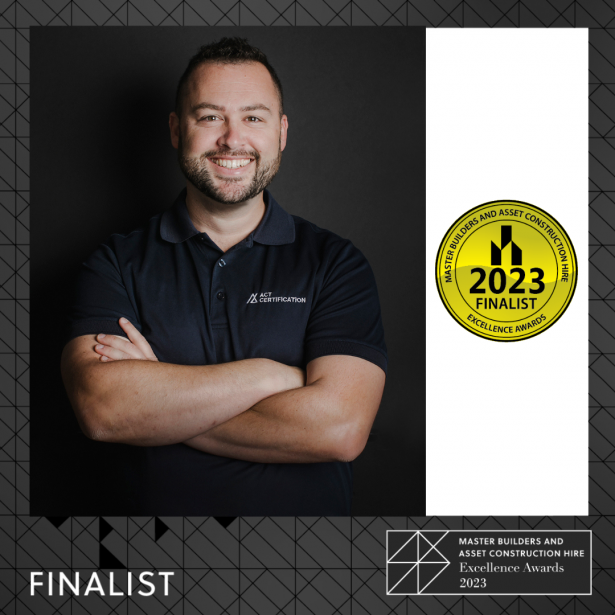 Scott began his career in the construction industry as an apprentice carpenter, before furthering his studies in completing his Cert IV in Building and Construction (both completed at CIT). A desire to further understand legislation, codes and standards associated with residential construction led to Scott getting 'off the tools' and becoming a Trainee Building Certifier. Graduating with an Advanced Diploma in Building Surveying from TasTAFE provided Scott with the opportunity to take the next step in his career, co-founding ACT Certification Services Pty Ltd in 2018. After 12 months, Scott bought out his business partner. Since 2018 the business has grown from operating with just Scott managing operations out of another company's office from a single desk, turning over 50 projects per year, to employing a team of 6 staff and operating out of their own space in Mitchell, generating over 400 projects per year. Scott has built ACT Certification from the reputation through word of mouth referrals. Scott provides a unique service offering with his services, in that he is a qualified carpenter and builder, and has hands on experience with residential construction, something that is highly regarded by his industry peers.
Scott was selected as a finalist for the category of – Professional of the Year. The criteria was as follows:
Providing an exceptional level of service to clients
Actively supporting the industry and/or key industry associations
Promoting the industry to the wider community
Promoting best practice work standards within the industry
Demonstrating a high level of ethical standards in all work practices
In 2022, Scott and his wife Alex Wrigley (also class of 2006) joined the Life after Radford panel for Year 12 students. See the news link to read more about their visit to the College Life after Radford with Year 12 Class of 2022 – Radford Collegians
Scott and Alex shared this advice to the Year 12 students – Getting to know how things work in the "real world". Read about mortgages, saving money, equity. We suggest reading a book called: What I didn't learn at school, and I wish I had by Jamie McIntyre.