_related_users
News
The Radford Collegians are Hiring – Event Coordinator – 12 month contract
An exciting opportunity has arisen within the Radford Collegians Association for an Events Coordinator. The applicant will need to provide superior event coordination and planning in a range of duties and responsibilities. This position is contract role only for 12 months.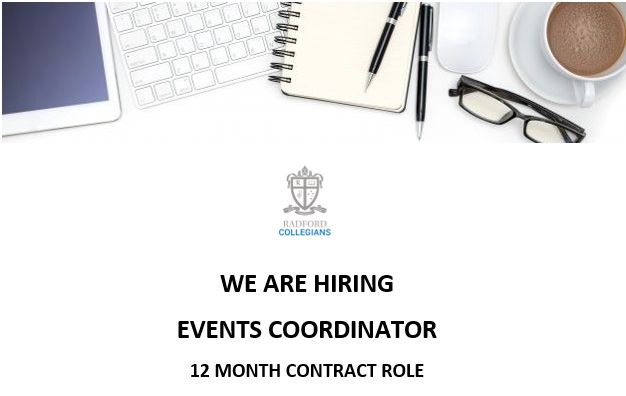 The Radford Collegians' Association is about building a community that provides ongoing support to its members on a social, educational and career level. Originally founded in 1989, the association has grown by about 160 members per year. With over 6,500 former students, the Association seeks to connect Collegians' to each other and their school. The association is committed to three core pillars of focus including social & community awareness, business & career opportunities and giving back. These pillars guide the Radford Collegians' in success and growth.
EVENTS COORDINATOR-
CONTRACT ROLE FOR 12 MONTHS
Suitably experienced and qualified applicants are invited to apply for this 12-month contract position, commencing in April 2021.
The opportunity: 
An exciting opportunity has arisen within the Radford Collegians Association for an Events Coordinator. The applicant will need to provide superior event coordination and planning in a range of duties and responsibilities. This position is contract role only for 12 months.
 About the role:
We are looking for an experienced Events Coordinator to organise excellent Collegian (ex-Radford student) events throughout the year. You will be responsible for every aspect of an event, from choosing venues to evaluating success afterwards.
As the events coordinator, you must be well-organised and competent in vendor management. Communication skills and attention to detail will set apart the best among the candidates. Add a shot of enthusiasm and passion for the job and you'll be our ideal candidate.
The goal is to organise unforgettable events that will ensure the entertainment of participants and facilitate the completion of Collegian objectives.
Your will need to be available to attend Collegian committee meetings and liaise with the full-time onsite Collegians Communications Officer.
About the Radford Collegians Association:
The association was founded in 1989. We are a community group within Radford College. We are passionate about providing a continued and rewarding experience to students who have graduated from the College. We are currently an association that consists of 11 volunteer members (all Collegians) who meet 4 times per year. The three core pillars of focus for the Collegians are:
Community and Social
Staying connected and proactive is a priority for the Radford Collegians. There are numerous community initiatives taking place throughout the year including foundation days, reunions, social events and frequent news and updates.
Business and Career
Becoming a Radford Collegian provides individuals with greater opportunity, choice and flexibility in the working world. This is available through member and networking events, tutoring and mentoring, referral programs and access to scholarships in a range of professions.
Giving Back
Becoming a Radford Collegian is a great way to give back to the school and community. Opportunities lie in sponsorship, fundraising grants, award programs and student mentoring.
About you:
Ideally you will have prior experience in an event delivery role with formal qualifications in events management to back up your hands-on knowledge of what it takes to produce a successful event, from conception to execution.
You will need to demonstrate confidence and the ability to act professionally at all times – dealing directly with people of all levels and develop relationships that drive the core pillars of the Collegians whilst a strong dose of resilience and tenacity is essential to succeed.
You will be a hard worker and be confident in learning new systems and programs. You will be a quick thinker with an ability to prioritise multiple projects and work to strict deadlines. You will be confident and pro-active with taking ownership of the entire event process.
Above all you'll be a hard worker with a positive 'can-do' attitude – ready to take on any challenge.
 Responsibilities:
Create event proposals which fit with the Collegians vision and requirements.
Maintain a working relationship with the Collegians committee members and Collegians Communication Officer.
Planning event aspects, such as venue, seating, dining, and guest list.
Delegating event planning tasks to Collegian committee members where necessary.
Coordinating event entertainment, including music, performers, and guest speakers.
Staying under budget while planning event specifications.
Managing and overseeing events on the day of, including problem-solving, welcoming guests, directing event set-up, communicating with the Collegians committee, and organising vendors
Communicating with the Collegians Communications Officer to create effective advertisements for each event, and when necessary crafting marketing materials such as print and internet advertisements for individual events.
Anticipating and planning for different scenarios.
Planning multiple events at once.
 Candidate must:
Be technically competent and confident (intermediate to high proficiency) in the MSOffice suite including Excel.
Proven experience as event coordinator.
A proven track record of organising successful events.
Excellent vendor management skills.
Outstanding communication and negotiation ability.
Well-organised with multi-tasking skills.
Able to handle stress and remain calm.
Problem-solving ability.
Degree in hospitality management, public relations or relevant field is preferred.
Uphold Radford's Values of Truth, Compassion and Wisdom.
If you have further enquiries regarding this position, please contact the Collegians Communications Officer at collegians@radford.act.edu.au
How to apply:
Applications close at midnight on Sunday 11 April 2021 and should be addressed to:
The President, Radford Collegians Association
email: collegians@radford.act.edu.au
Applicants will be subject to employment screening and will be required to provide a current ACT Working with Vulnerable People card prior to commencing employment.