_related_users
News
Peter Hanisch retires after 36 years in the classroom and the laboratory
Richard Wardman recognised Peter's achievements and bid him farewell at a function for Radford staff last Thursday.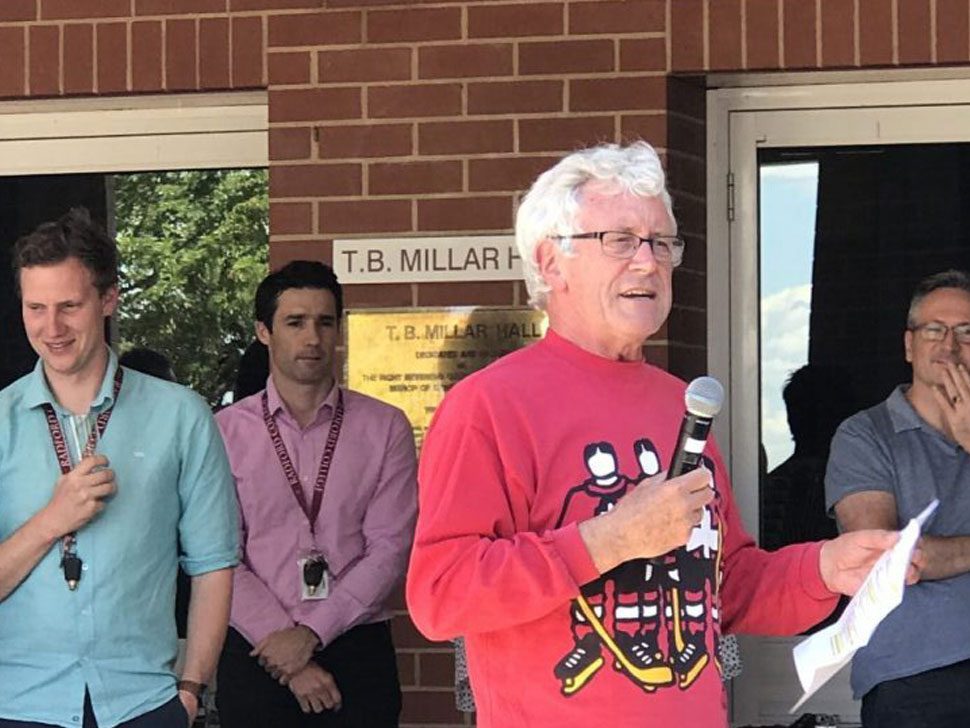 By Richard Wardman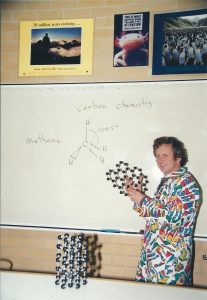 We are here today to bear witness to a dear colleague who is shortly to retire from full-time teaching after a busy and continuous 36 years in the classroom and the laboratory.
A listing of facts and dates alone suggests a career of remarkable industry, purpose and passion.
Peter arrived in Australia in 1976 after obtaining a BSc from the renowned McGill University, and MSc from Alberta University – both in Canada.
His field was physical chemistry, in particular NMR – nuclear magnetic resonance – Spectroscopy, a powerful technique of analysis.
He worked in academe, in particular at the ANU, which was a top institution in this advanced field. He co-authored 10 scientific papers before deciding to take up school mastering.
In 1982 Peter joined Marist College in Pearce, one of the ACT's strongest academic schools and one with a fine reputation in the cultural sphere, sport and community outreach. He established what has become for him a pattern of engagement and commitment: the teaching of science (particularly chemistry), guiding a tutor group, coaching Football (Soccer), leading activities in drama and working with science extension activities. George Huitker was a student in Peter's Science 9 class.
After 3 years at Marist Peter started a looping trajectory that would take him through other fine Canberra schools.
Peter moved to Merici, where he provided his brand of science education for the benefit of young women. He also initiated the 'What in the Universe is it?' competition, as well as being the teacher's representative on the College Board.
Peter came first to Radford in 1982, a time of expansion, bringing to our students the same commitment to intellectual rigour, the same creative liveliness in sport, pastoral care and enrichment by way of media and drama, science.
In 1995 – after another 3 years – took up a Science teacher position at Canberra Grammar School. A similar teaching mix ensued but with growing attention to the 'gifted and talented'. He established a Double Helix Club and participation in the CSIRO CREST Awards.
Finally Peter returned to Radford in 1998 as Head of Science. He became heavily involved with the Middle Schooling initiative. He developed a strong interest in the productive use of ICT in learning and teaching, completing a Grad Cert in Learning Technologies through Curtin University of Technology (2003).
is students are still encouraged to use Evernote, on which platform Peter has compiled an immense archive of learning resources. Students are encouraged to use the devices that they are all carrying under their arms in truly productive ways. Peter is a demon at monitoring their online work, and he regularly reports directly to parents on defaults.
Peter is currently teaching mathematics at the high school level. He runs – has run for over 10 years – the da Vinci Decathlon – an activity in which students must develop and use higher order thinking to solve unique problems while working in a team environment.
So we come to now, 36 years by my reckoning. This brings to mind the powerful story by RL Delderfield: To Serve Them All My Days.
** We see Peter now as a trim and rather dapper middle age teacher ….
But it has not always been so.
In his early days in Australia Peter was moved to join activists at the Strahan camp, protesting the construction of the Gordon Below Franklin Dam, the iconic environmental struggle of the late 70s and early 1980.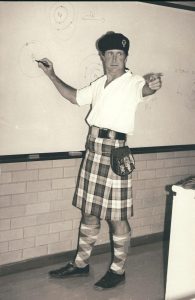 On appointment to Radford Peter was very much the enfant terrible in terms of appearance and bold actions. I remember his fish tie, andGraeme Wigg's jibe about dressing like a woman that led Peter to teach in a kilt, sporran and bonnet.
In truth Peter has had – continues to have – an uneasy relationship with conservative authority – and some parents – who seems focussed on precedent, past actions and political sensibilities rather than being future focussed and acting on the basis of evidence and fairness
Peter is moving to the next phase of his career. He has indicated that he may expand his tutoring in Maths and Science. He – like me – has come to resent the creeping and relentless intrusion of teaching into the home space and family time.
What of the future?
An inveterate traveller, and a visitor to all continents bar Antarctica – and that not by want of trying – Peter has indicated a desire to return to India and spend a decent time reacquainting himself with the paradoxes of this diverse and spiritually rich country.
I predict that he will:
continue to play competitive soccer.
follow tennis.
Regularly exercise his two poodles, with leading cat
What ever he does I know that Peter will be neither idle nor sedentary.
If I had to sum up Peter's work and outlook in three words it would be these: Valiant for Truth.