_related_users
News
Nathan Kukathas (class of 2000) has turned his dreams into reality… and he has told us how!
Nathan has developed the G7 POD, a 1.5 kg inflatable sleeping ledge that is now transforming how we climb the world's most difficult big walls.
He also has some great advice for current students.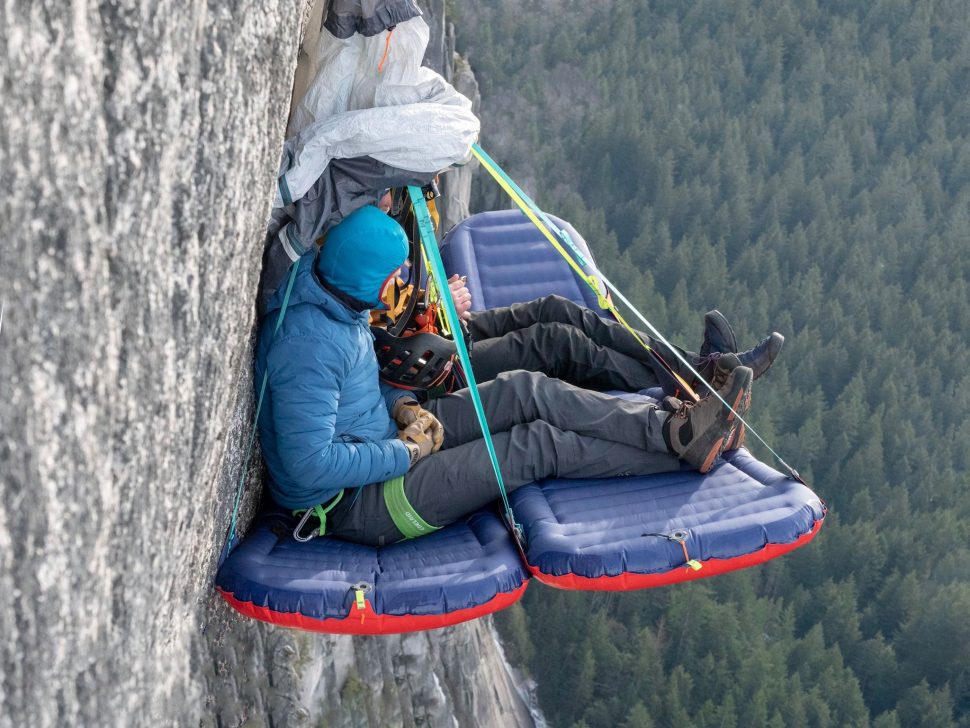 It's July 2012, I am in Baffin Island, the far arctic north of Canada, establishing a big wall climbing route on the West Face of Mt Thor – the tallest continuously overhanging cliff in the world. At more than 1,500m sheer overhanging vertical drop Mt Thor makes even the big walls of Yosemite valley like El Capitain seem small.
Hiking in to the base of Mt Thor with 400kg of equipment between the four of us made the 30 km hike an arduous 210 km slog shuttling loads over 7 laps.
Hiking in these loads had me thinking a lot about how we could reduce the weight of our heaviest items – the framed portaledge. At 10kg each these aluminium framed beds, climbers sleep hanging on the wall in at night, are so heavy the climb is slowed down to a crawling pace. The only way to get these portaledges up the cliff is by hauling them with a pulley system. 
It was on this trip I first conceived the G7 POD, a 1.5 kg inflatable sleeping ledge that is now transforming how we climb the world's most difficult big walls. Inspired by my paraglider and my Thermarest air mattress, the vision for a super lightweight inflatable sky bed was born. 
Winding the clock back, this story actually begins in my school years.
It is the year 2000 and I am in Grade 12 at Radford College. My passion is rock climbing. To support this I have been making backpacks, tents and other outdoor equipment for the past few years, and I know, this is what I want to do forever. 
Jump back a bit more, it is 1998 I am in Grade 10 and doing a week long internship for work experience at Mont Adventure Equipment in Queanbeyan. Learning about the process of production, laying up patterns to get the best yield, and designing production suitable solutions that improve the user experience I am completely absorbed in the process, I am thirsty for opportunity and a demand for knowledge. I walk out of that week inspired to pursue my dreams. Over the summer break I climb Ozymandias, a big wall climb in Mt Buffalo Gorge Victoria, and to do this I make most of my own gear.
Returning to school at the start of Grade 11, I began to take design more seriously. I quit woodshop class, which I loved, and transferred over to the Fashion Design class. It made total sense because the sewing class had industrial sewing machines and if I was in that class I could use those machines in free periods and at lunch to make outdoor gear. 
Everyone was making boxer shorts and hoodies, neither which were a challenge since I had just finished designing and making a four-season tent. Thankfully my teacher recognized this and allowed me to keep working on my own designs. As the year progressed, she even gave me the opportunity to teach the class some pattern making skills that I had learnt through my self-taught practise. We ended up making a class project that I led. We ran a small production of a dozen bags that I designed.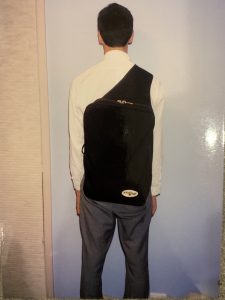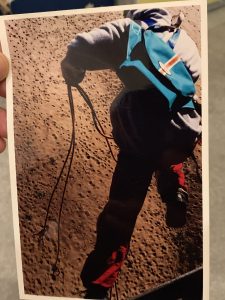 In this pivotal moment, being in action, my passion expanded from hobby to career. With two friends I started my first business CrashTest Industries – an urban bag brand consisting of satchels, day packs and custom items that we made at night in my parent's garage, then sold by day at school. It was a lot of fun. Every Monday night we got together in the garage sewing till 5am, working to fulfill all the orders we had gotten the week before. 7am went off but I always slept through it. Tuesdays were a struggle as I dragged myself to school.
This business grew into a repair service business fixing tent zippers, backpacks and other gear. I ran this small business in partnership with Belconnen Camping World where I also worked part-time as a shop assistant after school.
After Grade 12 I saved up money from my repair business and moved to Canada in pursuit of climbing big mountains and being closer to outdoor industry brands leading the way with climbing equipment. 
Over the next 5 years I travelled and climbed all over the world. I put up new climbing routes in Canada and the Karakoram. I climbed many of the climbs I had dreamed of as a student including various routes on El Capitan in Yosemite California. In 2003 I became an Assistant Rock Guide through the Association of Canadian Mountain Guides, which deepened my knowledge of climbing and leadership. 
It is 2005 and I just returned from an expedition in the Karakoram mountains of Pakistan. Sea To Summit, an Australian outdoor brand, call and invite me to join their company as a Product Designer. At the time I was climbing full time and working as a guide living one of my dreams,  but the opportunity to work as a full time Designer was so aligned with my original vision I couldn't say no. In joining Sea To Summit, I spent the next 5 years traveling all over the world learning how production, sourcing, development and design worked at a large scale, leading projects in many of the top outdoor industry factories.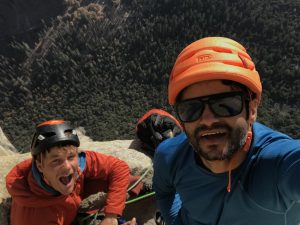 This opportunity was critical to my career because it gave me the foundation needed to apply my best ideas to hundreds of projects which led to my working for many of the top brands. 
2010, a decade after Radford I am back in Canada and now working at Arc'teryx Equipment in Vancouver as a Designer. A dream come true. Considered the Apple of the outdoor industry brands, Arc'teryx was the company I had always wanted to design for, dating back to when I first began sewing at Radford in the 90's. Up till this time my designs at Sea To Summit had been well received. In fact every item I designed won a design award and everything I made was equipment I was proud to put my name behind. Gear that I liked to use when I went outside. 
During my time at Arc'teryx I learnt a lot from working with many of the industry's very best designers. In my time there, I lead the design of two more award winning products the Arc'teryx Covert Case and the Arc'teryx Alpha Pack. These pieces were instrumental in my next move which was building the companies of my dreams. 
Riding the success of the Alpha Pack and Covert Case, I started Design House Collective (DEHOCO), a company that designs, brands, businesses and products. At first DEHOCO was just contract product design, an extension of what I had done for many years as an employee. But as we grew and others joined my team, we evolved into a brand and business design company. Applying our practise of product design thinking to business design, we developed a way to create brands with purpose that cause teams to form an aligned vision binding them together and calling them into action. While building DEHOCO I simultaneously created two other businesses that are the direct product of my original vision started back in high school. 
Cardamon makes the most essential tools for living. Urban products that are minimal, simple and beautiful, fulfilling what we really need. In 2016 we launched the Cardamon Wallet on Kickstarter. This project is the result of many friends working together, including two school-mates from Radford days Nathan and Ben Hamey, who helped me develop the look and feel for this brand.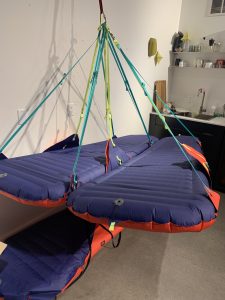 Grade VII Equipment, a climbing equipment company, makes tools for the most committed. This being my most recent project. A few weeks ago we launched our debut product The G7 POD, a 1.5 kg inflatable ledge to sleep on when climbing the world's biggest rock walls . This replaces the 20kg traditional framed portaledge and completely transforms how we climb big walls. Now we can move at the speed of climbing and we are not limited to the pace of hauling. 
This project was just live on Kickstarter and raised $171,928 USD.
It has been 19 years since I was sitting in your seat at Radford College. I never considered myself to be academic and my school grades were pretty average. That said, I knew as soon as Grade 12 was done I'd be off to travel the world and forge my own path. I had a vision for my future that I was committed to back then. Even though I wasn't academic I stayed at Radford because of the community, my friends and because it supported my diverse interests in music, climbing, business and design. I am a climber and entrepreneur at heart with an unwavering commitment to creative pursuits. From Radford I have life long friends and I learnt many of the necessary academic skills: reading, writing and mathematics that I use daily for my profession. Looking back it is pretty impressive and no small feat that the community of Radford had me engaged with school just enough to stick it out. I am forever grateful to the staff and my friends who all made it worth staying there till I had the foundation to launch my dreams. 
For some of you, I'm sure the same applies, you are not looking to go on to university and yet you are passionate and motivated to create a successful future. I recall watching a great interview of Steve Jobs and Bill Gates. They were both asked the same question, "you guys are very successful, what do you think made that possible"?
[I paraphrase their replies below, this is not a direct quote, this is what I got from the interview]
Bill answered
You know as a kid I was very lucky. I grew up around computers at a time when most people didn't have access to them. I fell in love with computers at this young age and spent every minute of my spare time after school figuring them out, learning to code and mastering the technology. By the time I finished high school I was already at an expert level. Most importantly though I was obsessively passionate and committed to continuing to master the computer. Inevitably this lead to creating Microsoft and even if it wasn't the success it is today, I would have still pursued this dream till now because it is exactly what I love to do.
Then Steve answered
It is much the same for me. I am lucky. I have a passion and commitment to computers that goes beyond any success. From the very beginning I have always wanted to make a better computer. That is what drives me. That is why I come to work every day. This is my passion and even if I were not winning I'd still be here giving it everything I've got. Through this dedication it is hard to fail, eventually you find a way and create success.

I am now well into my career and although I have no university education, no tertiary design education or formal business training, I am highly successful and living a life I love.

I have a passionate interest and unrelenting commitment to bring the most thoughtful design solutions to the world, to create the most essential tools for living and make tools for the most committed.

This purpose is what has me get up regardless of how successful each moment is. When my building floods; payroll is due and sales are down and I am responsible for everyone's income; I am runout on a harrowing lead halfway up a big wall in the middle of nowhere, it is highly demanding, it is challenging, it can be stressful and at times I have doubts, concerns and even valid reasons to step down and walk away. The man the woman who risks nothing is nothing does nothing. The greatest risk of all is doing nothing.

Find what your passionate and committed to. If you don't find it keep looking, don't sell out, create and live your dream.

Finally, to be living your dream you must take actions consistent with the future you dream. As much as dreams are the genesis for new ideas and great futures, action turns them to reality. Some people will say you can't do it, others will think what if, some will even try to stop you. These are all reasons and being reasonable will only get in the way. Bring unrelenting commitment to your passionate interests and create your future. Turn your dreams to reality.