_related_users
H for History
The launch of 35 Years of Radford College, Foundations, Traditions, Inspiration by George Huitker
The College and Collegians Association were delighted to host over three hundred people at the launch of Radford's special 35th anniversary book, Foundations, Traditions, Inspiration on 10th April in the new Morrison Building.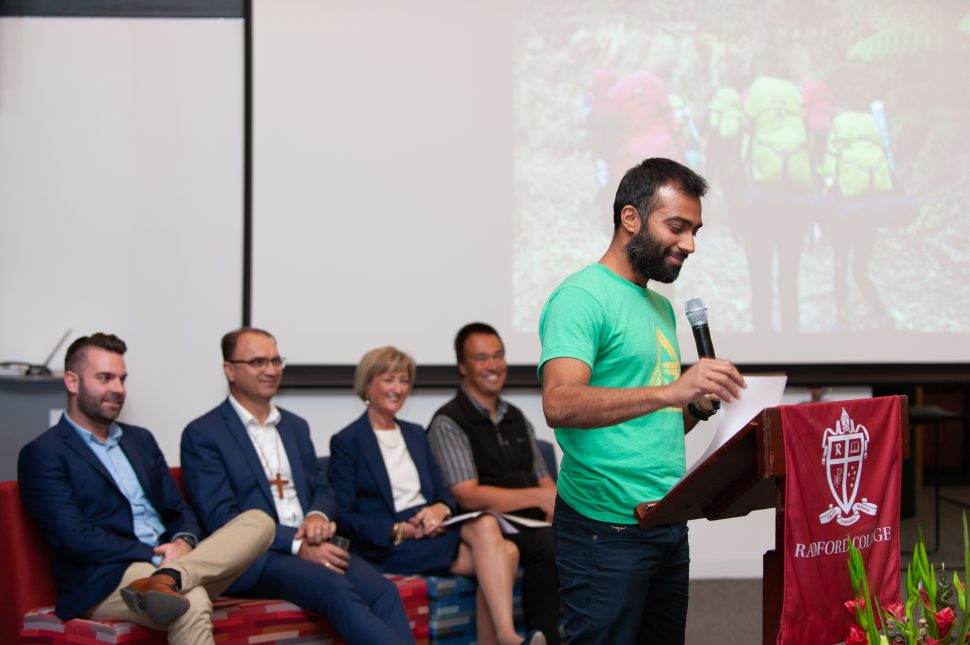 There was a great sense of pride and community amongst those gathered. There was a definite buzz in the room – so many "old" faces returning, so many reunions, so much laughter and so much chatter. The music from Much ADO, including Alex Wanjura (Class of 2017) just added to this great vibe. Two minutes into the event everyone knew it would be a sensational evening and celebration: so much so, it was somewhat sad to start the formal proceedings and interrupt, but everyone was also extremely eager to hear about the book!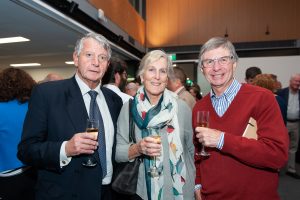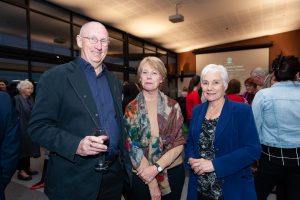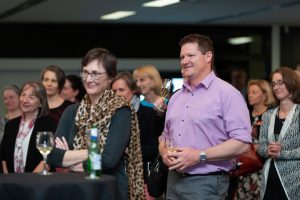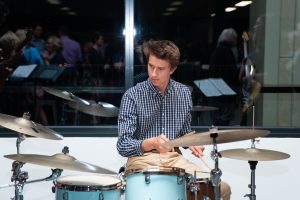 It was a significant occasion in the history of Radford College, not only because we were celebrating one of the major events planned for our 35thanniversary, but because we had so many people there together who have had such a significant impact on our College. We are delighted that Mrs Elizabeth and daughter Margaret, Jeanette Wigg, Val Smith, Philip Heath, John and Val Leyshon, three past Chairmen, Ian Morison, Ray Young and Lawrie Willett, Board member Bob Arthur were able to make it, along with many other senior staff from the earliest days right through to the present. There were also a large number of Collegians and Collegian parents (many from interstate) who returned to Radford for the event and this is testament to their continuing sense of connection with the College and its staff.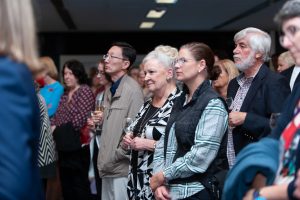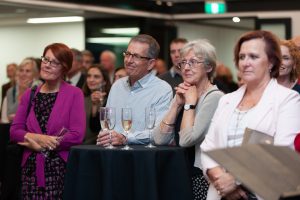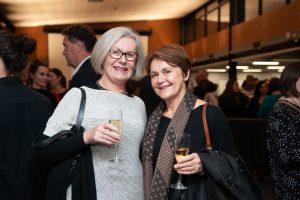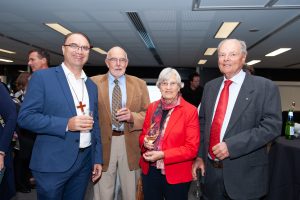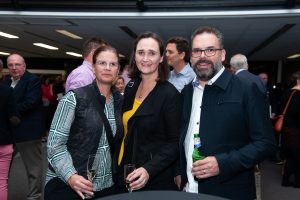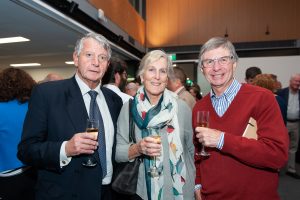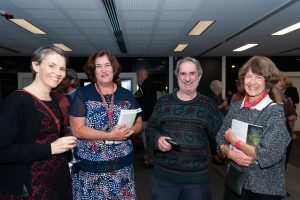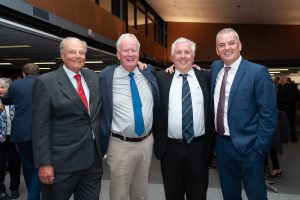 Fiona Godfrey opened the evening explaining why she had commissioned the book. She said: "When thinking about what we would do to celebrate our 35thyear of operation, I thought one thing we probably need to do, is update our written history. Many of you would know that former Head of English, Jenny Murphy, was commissioned to write a history of Radford College to celebrate the 20thanniversary. And so, in September of 2003, A Matter of Choice: the foundation and establishment of Radford Collegewas published, in which Jenny meticulously documented how Radford came into being.
Fifteen years on, it felt like the time was right to write an update. And in thinking about the best person to do that, I immediately thought of George Huitker. And so, I approached 'H' about the idea of him being commissioned to write an updated history of Radford College. Thankfully…. he agreed!"
Fiona and others had many discussions with George as he researched, and ultimately it was decided that the book would have 35 chapters telling 35 stories; each one celebrating the years we have been in existence. This sort of social history writing is well suited to this century and has allowed George to really explore some themes which are central to the sort of school Radford has become.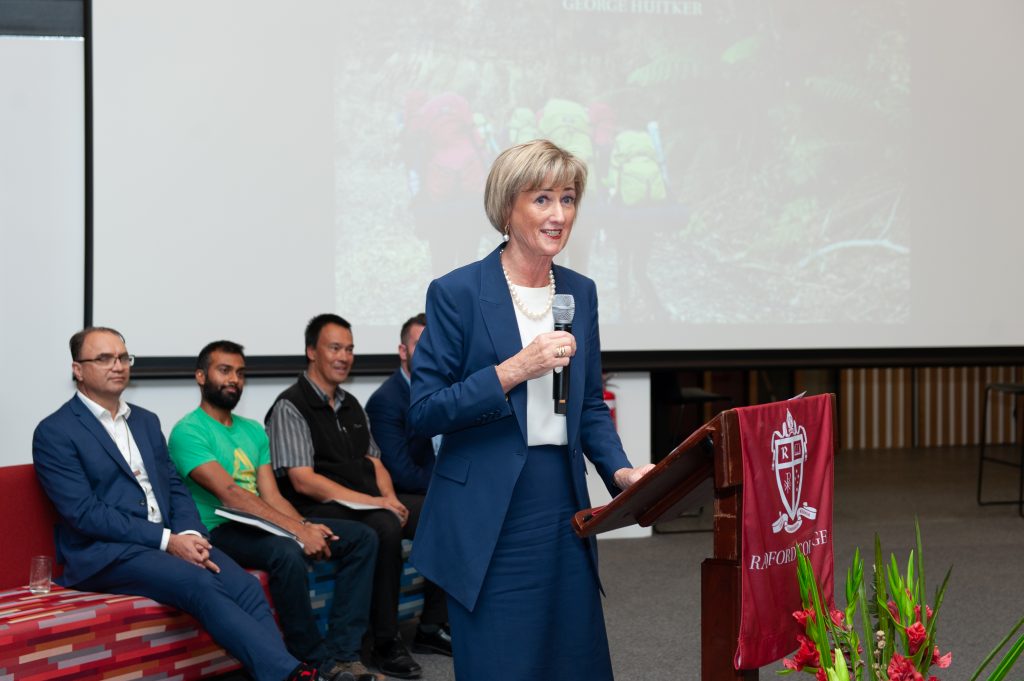 Fiona expressed how wonderful it has been working closely with the Collegians through this project and how fabulous the Collegian Story project that has been developed in parallel to the book's formation, which George has also been a fundamental part of.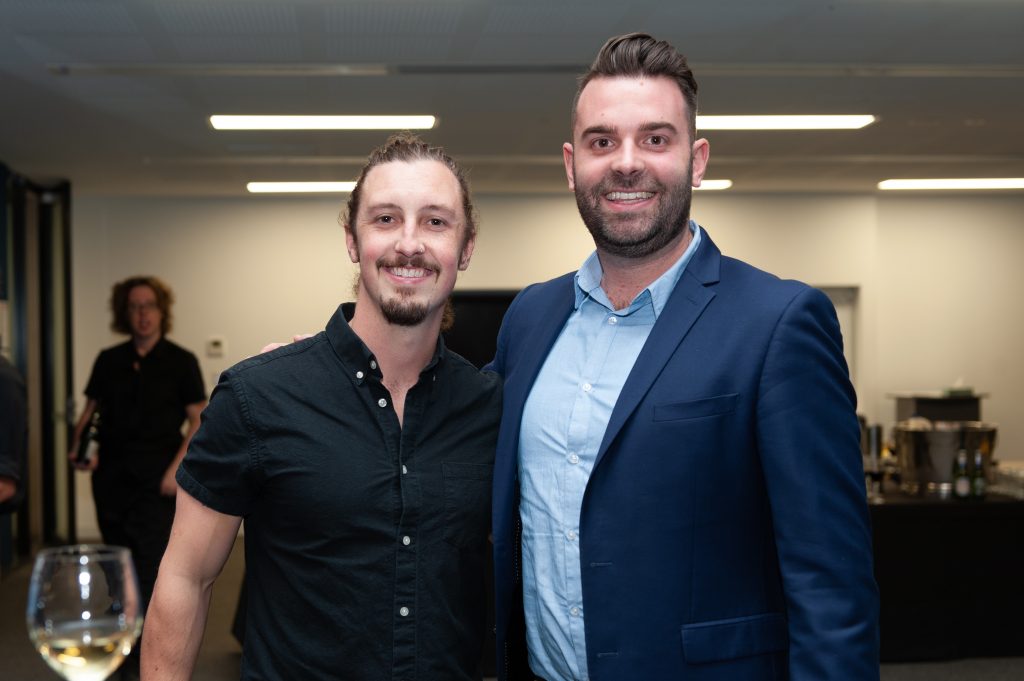 Phil Trenbath, Collegian Association Vice President standing in for President Tristan Maddigan (who welcomed a baby boy into the world earlier that morning) then spoke briefly about this project and thanked Mr H for working so hard on it, especially while undertaking the writing of the book. A preview of the 7 videos that are being released over the coming weeks was shown. This mash up of stories shown really highlighted all the things people were feeling in the room and there were even a few happy tears shed during the viewing. These videos are being released weekly and can be viewed on the Collegian website.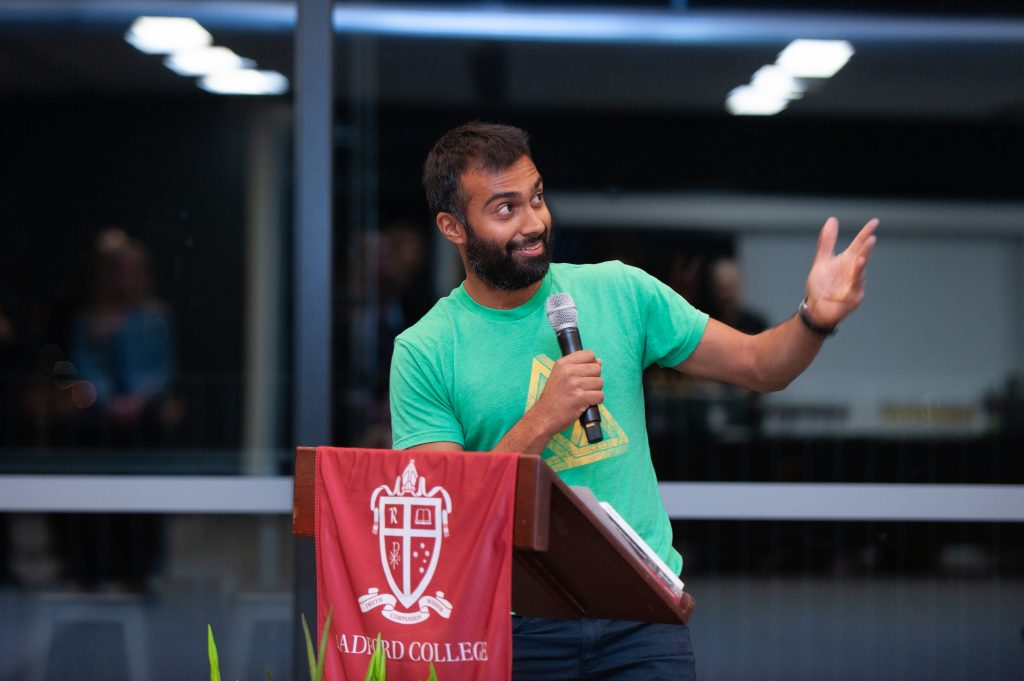 Niraj Lal, Collegian, Class of 2001, Physicist, Gates Scholar, ABC Top 5 Scientist Under 40 in 2016, Children's author, host of ABC Sciencey, and all-round top bloke officially launched the book for us.  You can watch his speech below. Mr Huitker noted that we can all agree that if this is the sort of collegian we are producing here at the College then we can all be pretty proud.
Niraj started off explaining the sudden urge he had to tuck his shirt in and to even shave his beard (although he was proud of this feat as it would not have been possible while he was at school).
Niraj said "I actually don't think I made the final cut of this book – apparently it's only for the most interesting and distinguished members of the Radford Community. No hard feelings George. Not awkward at all.
But it's ok, because I have featured in one of George's previous books twice actually. Once in describing a wonderful goal I scored to seal Radford's first ever Div 1 premiership, but also a passage where George describes the position of Left Midfield "as the position on any team where a coach puts a player he wishes to hide".
I remember reading this and realising that the position where I played most of my soccer at Radford was Left Midfield.
So Thankyou George. No hiding me now is there?
But this book isn't about me, or any one student. Nor even George, or any one teacher, but the entire community of people associated with this place of education and nurturing.
This school's 35 year history is written in three parts.  The first, Foundations, tells the story of this beginning. From the picket line protest, to the founding fathers, and mothers, of this community.  And chapters on the histories of each of the buildings, with titles such as "Junior School – Living it, not laminating it". And portraits of each of Radford's principals, and long serving teachers – many of whom I had the privilege of being taught by, Molly Brownbill, and John Leyshon, and Boyd Gibson, and Richard Wardman.   Touching tributes to some of the finest educators in Australia.
The second part of the book, "Traditions" is my favourite:  Biographies of the cherished older traditions of the school – Yr 9 camp, and foundation day and The Revue, and some of the newer ones too; Dirrum Dirrum and G Trips and the broader vision of Service Learning.
This part of the book also contains a chapter about The Canteen, complete with a history of the delicious Chunion for which George included a recipe for on page 89. This book is not your typical history book.
The third part of the history "Inspirations" portrays just that. Moments and memories and people from the past 35 years – and it's here that you really realise what a difficult job it must have been to curate this book – because there are so many remarkable stories and people.  Not only the Australian Representatives, and CEOs and authors and rock-stars and celebrities, but in the words of John Leyshon the Radford graduates who are "Really good human beings. They're good people, they're going to be good citizens, they have strong values and they're willing to express them and stick up for them"."
Mr Huitker was then given the opportunity for rebuttal and a chance to give us some insights into the process of writing the book.
George said "What have I learnt along the way? Well. Two 'words' keep emerging in nearly every interview. And those two words actually weren't 'Chunion' or 'Year 9 Camp'. They were, in fact: communityand gratitude. I've [already expressed] some of the latter, but here's another story from a collegian that encapsulates the type of thing that remains in the memory of a student who has passed through (and years after graduation was retold to me with immensegratitude): One lunchtime I went in with another student to see our Science teacher about a chemistry question during his lunch break. We spent the whole of lunch discussing it and he helped us. As the bell rang, we found out that it was his birthday and that he'd missed the whole birthday lunch with his colleagues(who I imagine were hovering excitedly at the door). That collegian went on to reflect, years after that brief but impressionable lunchtime: That's the kind of teacher you find at Radford. And this author also went on to reflect, that that is the kind of teacher our founders would have employed 35 years ago.
David Mulford, our 4thfearless leader, once spoke about "the pastoral arm that would wrap around anyone who was struggling". Jordan Prosser, Class of 2006, noted that there's something important about the way, during his time there at least, that Radford dealt with crises and misfortune, as a community. I remember during tragedy the way the school rallied – but never in the saccharine or forced way that communities so often come together at times like this. There was always a place for genuine grief, and every arm of the school – administrative, executive, pastoral and religious – seemed completely united in their supporting of the students'. This would please founding chair Tom Millar, who insisted that Radford College had to be a school in and of the community, with a developing tradition of service to the community.
George graciously went on to sign copies of the book for over an hour.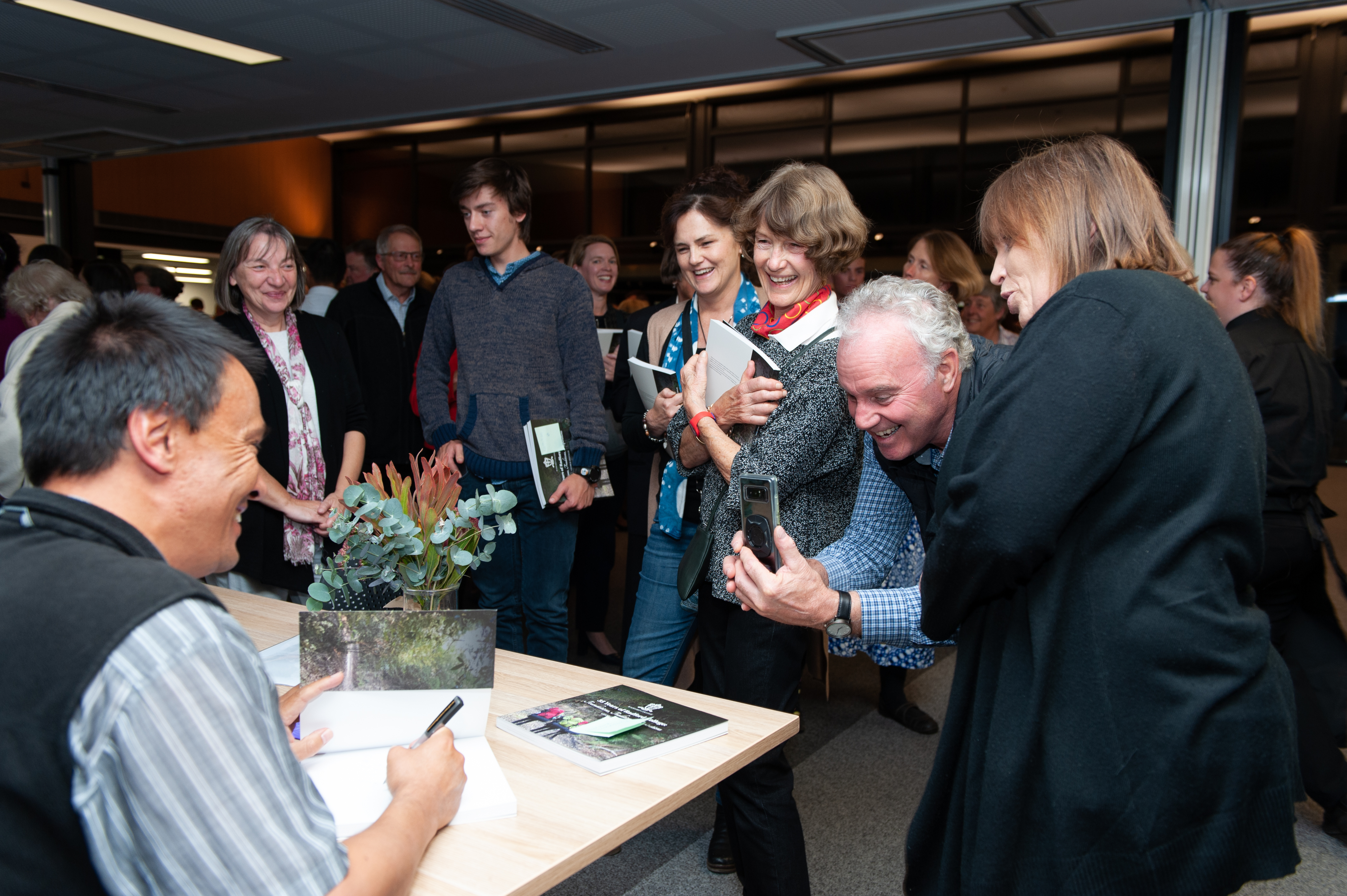 The help provided by our Collegian Captains and Prefects was greatly appreciated.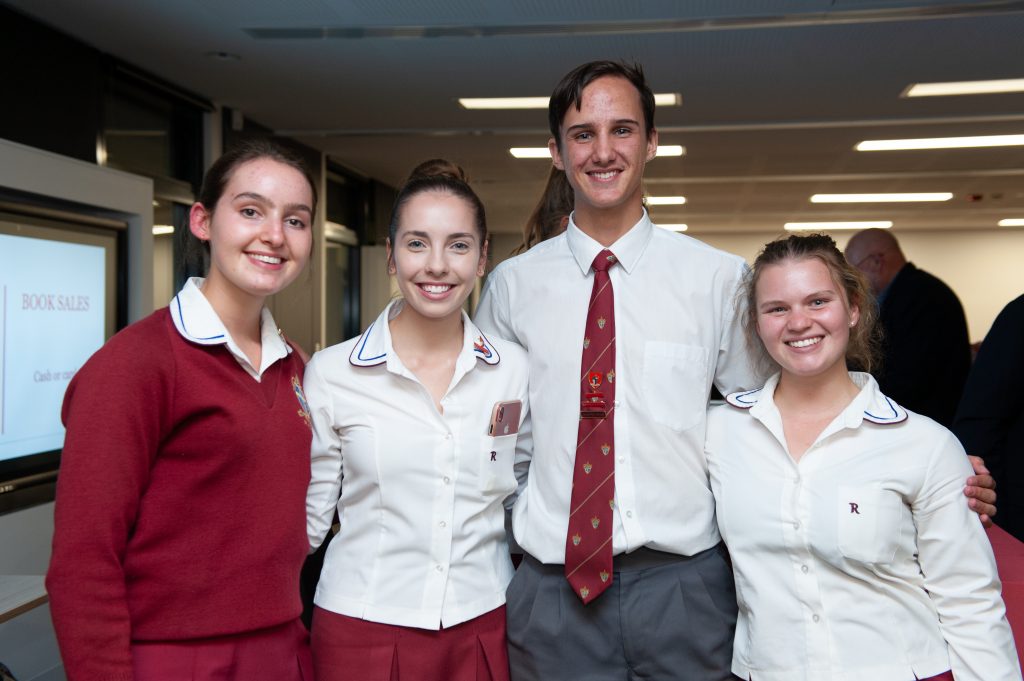 Please see the full gallery of pictures on the Collegians website.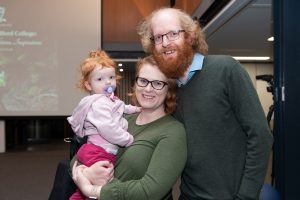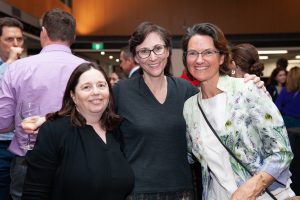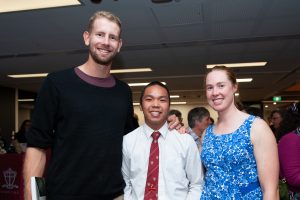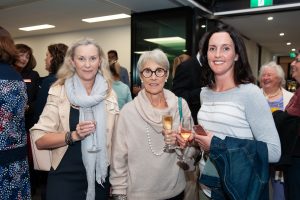 You can buy a copy of the book online. Don't miss out, it is a fabulous keepsake. Books are $35.