_related_users
News
Hanna Hoyne's (Class of 1992) sculpture, Crying Dinghy, was unveiled in Henry Rolland Park at West Basin last year
Hanna Hoyne, collegian and prominent local artist, is responsible for a piece of public art that is encouraging you to sit down and have a cry by the shores of Lake Burly Griffin.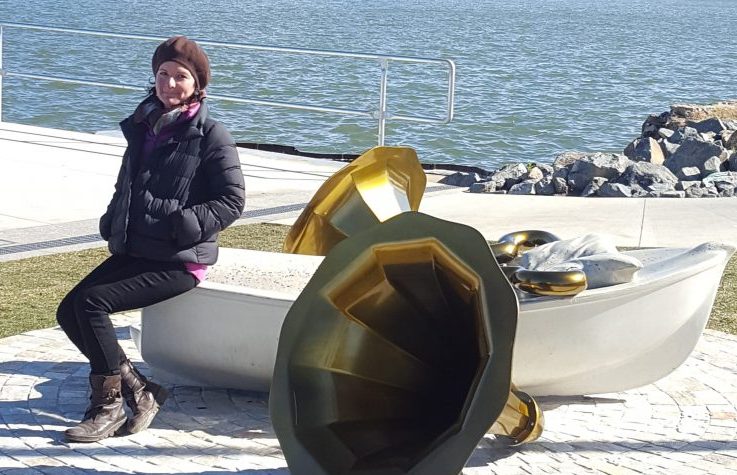 The sculpture, Crying Dinghy, was unveiled in Henry Rolland Park at West Basin last year.  It is part of Dr Hoyne's Cosmic Recharge series with other artworks featured in Sydney's Sculpture by the Sea and at the University of Canberra.
Hanna spoke to the Canberra Times and  told them public enjoyment of her artwork was a key way of finding meaning in her work.
The vessel was designed to lie in, with the two giant pipes coming out being the pillow and representing ears.
"It's a spirit recharge vessel," she said.
Dr Hoyne said she wanted the artwork to be relevant to the people living in Canberra and encourage people to ponder how we relate to ourselves and others around us.
She was thrilled when passing cyclists took interest in the sculpture as it was unveiled and laid in it.
"That made me a bit teary," she said.
"I want people to feel it and inhabit it.
"My hope is that it will have grubby fingerprints all over it soon.
"Sometimes being an artist can feel superfluous because you're not a medical officer or helping more.
"To be able to see people actually own a work of yours that is made for others makes it so worthwhile."
Hanna entered two of her works into Sculpture by the Sea, and as a result received the Helen Lempriere Scholarship, named for one of Australia's leading female artists of the mid-20th century.
The Canberra Times spoke to her after this about her journey as a sculptor. She was born in Germany, and had an unusual childhood. She describes her parents as "off-beat, bohemian hippy artists" and she grew up in two medieval cities on either side of the Rhine river – Mainz and Wiesbaden. Hanna moved to Australia when she was 13 and attended school at Radford. Her Austrian mother, Doris Kruze Hoyne was a very popular art teacher at Radford and specialised in Gothic church architecture, and her English father restored paintings, particularly Gothic altarpieces. Hanna reported having vivid memories of playing hide and seek in churches and castles, of dancing alone in her socks in vast empty ballrooms with heavy, gold-handled doors. There were large paintings of Jesus and Mary, she with huge, vibrant robes looming off the canvas.
Hanna recalls Canberra being a total shock, she says. "When we arrived at the airport, there was only a sort of shed there, a disconcerting sort of lack of people and too much space for everything. No density of culture for my limited Euro-teen lens at the time."
Hanna has exhibited in Australia, Germany and Hong Kong. She often works with ephemeral materials. Key to her practice is making wearable sculptures for people, surrendering these constructions to be inhabited during spontaneous performances. Since 2006 she has taught in Art Theory (undergraduate and postgraduate), Core Studies and Sculpture Studio Theory at the ANU School of Art.  She has also worked in a variety of other art educational roles at the University of Canberra, National Gallery of Australia, Canberra Museum and Gallery, the YWCA Canberra and Artplay in Melbourne.