_related_users
News
Collegians Clare Bowman (nee Hallissey, Class 1999) and Jean Drummond (Class of 1995) demonstrate Irish and Scottish dancing for Year 1
Year 1 have been inquiring into 'How We Express Ourselves' and have had a particular focus on exploring the way dance and movement allow people to communicate ideas and feelings. Collegians Clare Bowman (nee Hallissey, Class 1999) and Jean Drummond (Class of 1995) demonstrated Irish and Scottish dancing for them.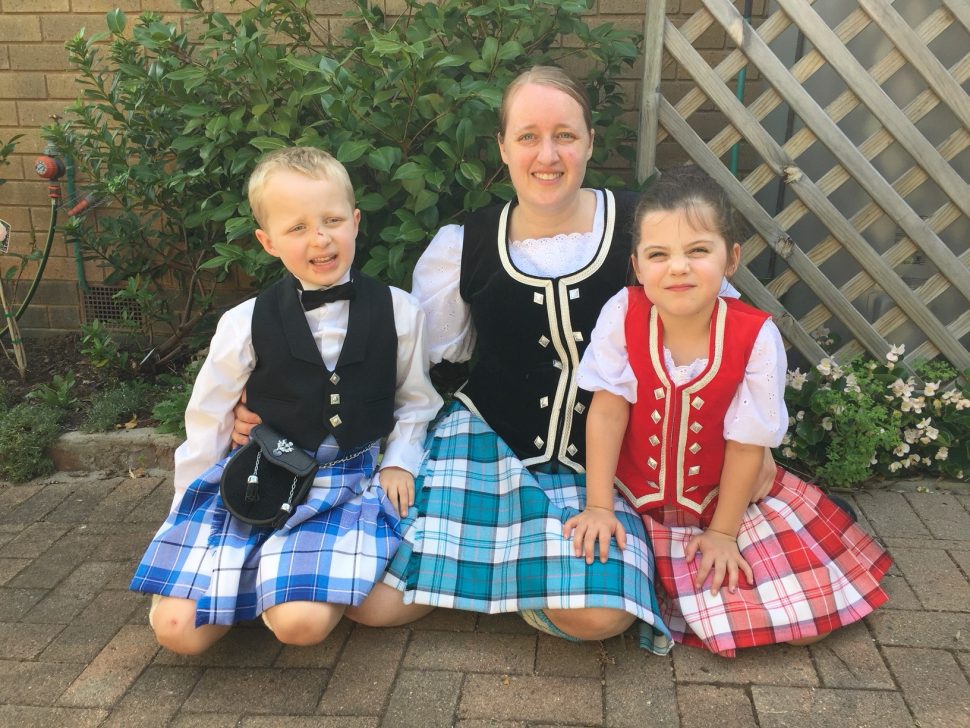 Year 1 have been inquiring into 'How We Express Ourselves' and have had a particular focus on exploring the way dance and movement allow people to communicate ideas and feelings.
The students have been very fortunate to have e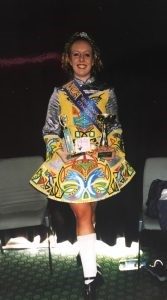 njoyed many visits from guest performers who have shared dances from all around the world with them.
A few weeks ago, Year 1 were very fortunate to have a visit from Clare Bowman (Class of 1999) & Kathleen Beattie who run the Beattie Bowman Irish Dancing School.
Clare is an Irish Dancing champion and was keen to take the opportunity to come back to her old stomping ground to share her passion. Clare's Dad is Irish, and her Mum used to do Irish Dancing when she was growing up in Sydney. Clare began classes in primary school: "after one class, I knew it was for me! I absolutely loved it and never looked back. It was always my dream to open a school with Kathleen, and last year we decided to give it a go. We have had a wonderful amount of interest so far and hopefully things continue to go that way. We both still work part time in the public service, and also have young families, so life is busy!"
 Clare was able to de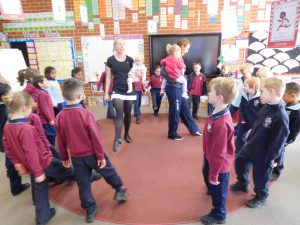 monstrate the dance of St. Patrick and then teach the Year 1 students some dance moves.
Year 1 thoroughly enjoyed the experience and asked insightful and amusing questions such as 'Why is the dance called St Patrick?', 'Why do the dancers arms stay by their side?' and 'How do you stop from getting so sweaty?'
Collegian and parent Jean Drummond (Class of 1995) also came in to teach the children  some Scottish dancing.  Jean demonstrated The Highland Fling and the Sword Dance while students her son Elijah and another student Connor (and Jean) did the Pas De Basques Dance (normally danced by young child beginners only, but it is a good warmup dance for the older kids and adults).
Jean then went on to teach the Yr 1 children the Pas De Basques & High Cuts Dance (also a child beginners dance). 
Jean has been going to dance lessons for 18 months and has done a few performances with her dance school at Celtic and multicultural festivals and a Scottish Ceilidh.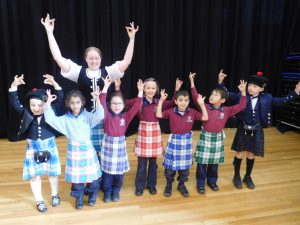 Jean has Scottish ancestry on both sides of her family. She says you do not get a name like "Jean Drummond" without some Scottish blood! She also has MacNeil, MacKenzie and MacFarlane clan associations.
  Jean said "Elijah wears my Drummond clan crest on his highland cap. My grandmother was a strong influence in that respect and taught me to love all things Scottish. Her father was Scottish born and moved here before WW1 to establish a farm and home before his sweetheart came out. WW1 broke out and he fought with the ANZACs (including at Gallipoli) before being shipped to France. He returned to Scotland during his leave to visit his sweetheart (and in subsequent visits his… ahem… children) and after the war they married (much to her parents' relief) and moved here. My grandmother was born here but grew up with her parents and older (Scottish born) siblings. She always seemed to feel cheated that she was not born in Scotland. I remember as a child she had tartan ribbons on all her teddy bears and stuffed animals and the handle of the suitcase she brought with her when she visited us. She sewed us kilts and tartan dresses and told us stories about her family and their Scottish ways. She made a great Aberdeen sausage. I've always loved the bagpipes. It stirs something in me. Although I am very much Australian, I love highland dancing because it lets me express that small part of me that was taught to feel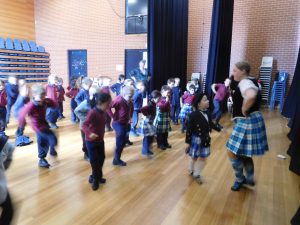 Scottish."
Some of the other amazing experiences Year 1 had were;
-Ballet with Soraya Sullivan (Year 6 student, and daughter of collegian Nadia Sullivan)
-Korean Fan Dance with Inja (A parent)
-Indian Bollywood Dancing with Sapna (A parent)
Year 1 appreciated the contributions of all their guests who helped them to express themselves.
Related Collegians