_related_users
H for History
H4H #20: Goddards for G
It was a unique scenario on the 19th Gamilaraay trip (G19) in December 2017: a long standing staff member Suzanne Goddard, participating on her first trip north, has a daughter who participated in G1 in 2011.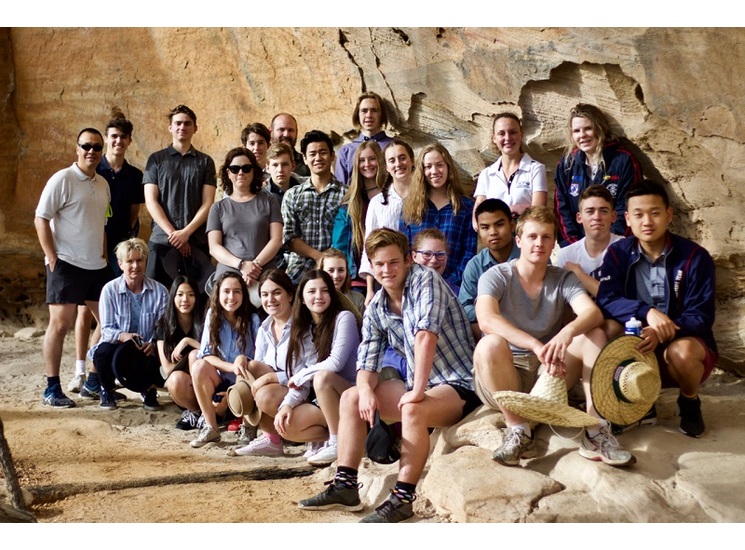 As Suzanne explains, 'As a teacher, I was fortunate to experience G19 with students and staff. The trip took me into a region that I had not been through since I was a child. It was obvious from the start, as we wove our way through the countryside, that there was going to be a combination of a service component with a learning component, coupled with cultural observation, all of which added value to the experience, and heightened reflective thought of Indigenous past and an appreciation of life in the rugged Australian bush. Having experienced the trip, I was pleased my daughter had also received the opportunity of a G Trip, as all these components enrich and add meaning to life, with the key value being the transference of skills that involve taking what is learnt and applying them to other situations in life.'
It is interesting to trace which exact skills were transferred. Hannah Goddard (Class of 2011) has found post-school life to be rich and varied. 'Since leaving school I took a few different pathways but finally settled on doing a Bachelor of Design with Honours, specialising in Textiles and Graphics Media at University of New South Wales,' explains Hannah. I am now in my final year of study. On reflection, elements of this degree remind me of the G Trip, with the emergence of the area of humanitarian design and the concept of sustainability. Notably, my recent experience in Calcutta – an opportunity made possible by the New Colombo Plan Scholarship Program – allowed for studies in a collaborative environment with local indigenous artists. The focus was on understanding and appreciating local artisan skills and taking these skills and commercializing them for a global market place. This is all in an effort to make communities sustainable and to maintain the richness of cultural identity through traditional artisan practices.'
I ask them both about their highlights from the G Trips. Suzanne identifies the G19 visit to Myall Creek and the tragic story that unfolded there: 'It is not until one experiences the site that the gravity of the massacre of the aborigines sinks in.' Other notable moments include the visit to the schools and seeing first-hand the joy that the Radford students bring to the Indigenous preschool and primary school students. She also highlights her visit to Moree and a conversation with Aunt Rosie at Kiah Preschool Centre Moree, 'where she talked about her Indigenous background, marked by success as well as prejudice, it was thought-provoking and probably the first intimate conversation that I have had with a person of Indigenous descent."
Hannah reminds me that it has been eight years since she attended G1. 'Our destination was the north-west slopes and plains of New South Wales, a different region to G19. The school I assisted at was Quirindi Preschool, with accommodation provided by a homestay with a family associated with the school. The trip was one of my first insights into working collaboratively with a different culture and experiencing the value of exchanging knowledge in customs and practices. I really enjoyed working with the children and teachers at the local pre-school in Quirindi and spending time up in the country. The experience taught me the importance of service to others and being able to apply this to a variety of contexts and life in general.'
Both members of the Goddard family appear to be doing a great deal of building community in collaborative activity through the arts, education and service. Returning from her Gamilaraay experience, Suzanne asked herself, 'Are we doing enough for these children and will the education these students receive be sufficient to create a pathway to a rewarding life?' Certainly, what Suzanne and her daughter Hannah have done already is more than just a humble beginning, and their work must surely inspire many others to instigate, imagine and involve themselves in similarly life-enhancing pathways. These lessons have echoed in her community work in Calcutta.
'I really enjoyed working alongside a block printer and creating a number of designs for rugs, one of which was selected as a final design concept for production using artisan techniques. I see these meaningful and challenging collaborations as an integral part of service learning, with the emphasis on helping others to create more sustainable futures.'
(Also see https://www.radford.act.edu.au/news-and-events/latest-news-and-achievements/article/?id=suzanne-goddard-wins-technology-teacher-excellence-award)