_related_users
News
Andrew Kominek (Class 2003) tells us about Coordinate winning 2019 Telstra Australian Capital Territory Business of the Year
Coordinate, and in particular Andrew Kominek (Digital Director and Partner at Coordinate, Class of 2003 and Collegian Association Committee member), have worked closely with the Committee to develop the Collegians Association over the past few years and are well deserving in our minds.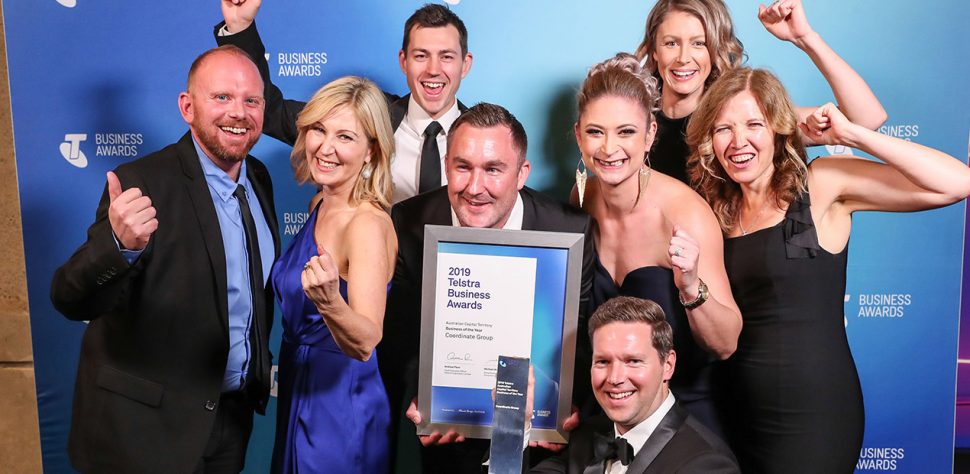 We are incredibly proud to tell you that Coordinate has been named 2019 Telstra Australian Capital Territory Business of the Year, as well as picking up the Medium & Making Waves Award – for businesses that are kicking goals in every area. The category is open to businesses with an annual turnover over $3 million and under 200 employees.
Coordinate, and in particular Andrew Kominek (Digital Director and Partner at Coordinate, Class of 2003 and Collegian Association Committee member), have worked closely with the Committee to develop the Collegians Association over the past few years and are well deserving in our minds.
Despite being in marketing Andrew prefers to stay behind the keyboard "If you really need to write a story you can – I'm not one for the limelight" – Andrew Kominek
He did however answer a few of my questions!
What are you most proud of?
I'm most proud of being a part of Coordinate's early years and also being a Canberra advocate. I started over 10 years ago when there were about 4 employees, so I've seen the business go from strength to strength. It's a great time to reflect personally and be proud of my contribution to the business. I hope I can keep offering new ideas and solutions to make sure we stay relevant and true to our vision for the business.
What is the most important thing to do well in business in this day and age?
People and relationships. I know it sounds cliché, but you need to have great people around you – that includes clients as well. When a business is smaller you really rely on the business owners but when the business gets bigger you realise you can't do it all yourself, so you need to surround yourself with great trustworthy people. You also need to align the business with clients who have similar visions and can integrate well with the team. A business needs to be more than just selling a product or service. You are providing them with tools that will help them become more confident, capable and reimagine what's possible. If your business can help another business or person grow and succeed that's what it's all about! The success runs both ways.
Have any Radford connections or learnings helped you along the way?
The Radford network is extensive and I don't think there would be a day I'm not involved with someone without that connection; whether they are clients, suppliers or other business owners in and around Canberra. It's great to see so many Collegians doing great things and if we can be involved in any way to help their business grow and succeed, we have achieved our goal.
As soon as you come across or realise the Radford connection, it makes the process a lot easier, as you know you can relate on some level straight away. It all comes back to community and culture, something we all experienced at Radford. The learnings from this was not necessarily all about education but respect, humility, community and understanding.
Coordinate say that the 2019 Telstra ACT Business of the Year Award represents almost fifteen years of hard work, resilience and making an impact on our great city. "We are honoured to have been named 2019 Telstra ACT Business of the Year and to have also picked up the Medium & Making Waves category alongside so many deserving Canberra businesses,"
"To our amazing clients and those that helped us from the humble days starting the business above the Griffith supermarket – we dedicate this to you. "We are proud of where our agency is today, thanks to a dedicated team and working with clients who believe in our vision." Coordinate's vision is to make an impact. As a full-service marketing and communications consultancy, we deliver strategy, creative and media to brands. With a mission to provide clients with confidence, capability, insights and reimagine what's possible. "This value of making an impact is not only expressed in our external positioning statement, its ingrained in the fabric of our business culture and filters through everything we do. We believe we can make a positive difference to our community through collaboration with brands, people and movements we believe in," Coordinate says.
Whether it was proudly putting Canberra on the map and advocating our city through the Brand Canberra project; resurrecting Canberra's Ice Hockey team and winning the AIHL Championship five years later; helping the Canberra Capitals to "Go BIG" or giving well-known Canberra brands like ActewAGL the ability to evolve with the rapidly changing business landscape. Coordinate has made an impact through countless sponsorships of start- up entrepreneurs like PKUP, by supporting charity organisations like LifeLine Canberra, Snowy Hydro SouthCare and Ronald McDonald House Charities.
Coordinate's team consists of more than thirty experienced professionals who collaborate across strategy and planning, brand, creative and media, with a mission to provide clients with confidence, capability and insights that provide a meaningful advantage. Coordinate believes the key to making a difference is about an attitude of thinking big and challenging the status quo; and encouraging our clients—big and small—to do the same. "When National commercial property agency Burgess Rawson approached us to simply refresh their brand, we helped them step out of their comfort zone to create a new stand-out brand that aligned with where they wanted to go in the future. When local barista Sasa Sestic from ONA came to us with a dream, we empowered him with the brand and strategy to compete on the global coffee stage. And when a small start-up—PKUP—approached us for help, we saw the potential and developed their branding for free. They've since gone on to win the Young Canberra Citizen of the Year Award".
"There is nothing more rewarding than seeing our clients make an impact as a direct result of our strategic and creative advice." Coordinate congratulates all of the deserving and inspiring ACT finalists and category winners including Small & Succeeding category winner Water Tight Canberra, Emerging & Energised category winner New Level Landscapes and Social Change Maker category winner OzHelp. Coordinate will join other State and Territory winners in Melbourne for the National Telstra Business Awards this month.