_related_users
News
Sienna Rolfe (Class of 2022) was the recipient of the Foundation Senior Scholarship for 2021–2022.
Sienna shares what receiving the Radford Foundation Scholarship meant to her and what life is like following her graduation in 2022.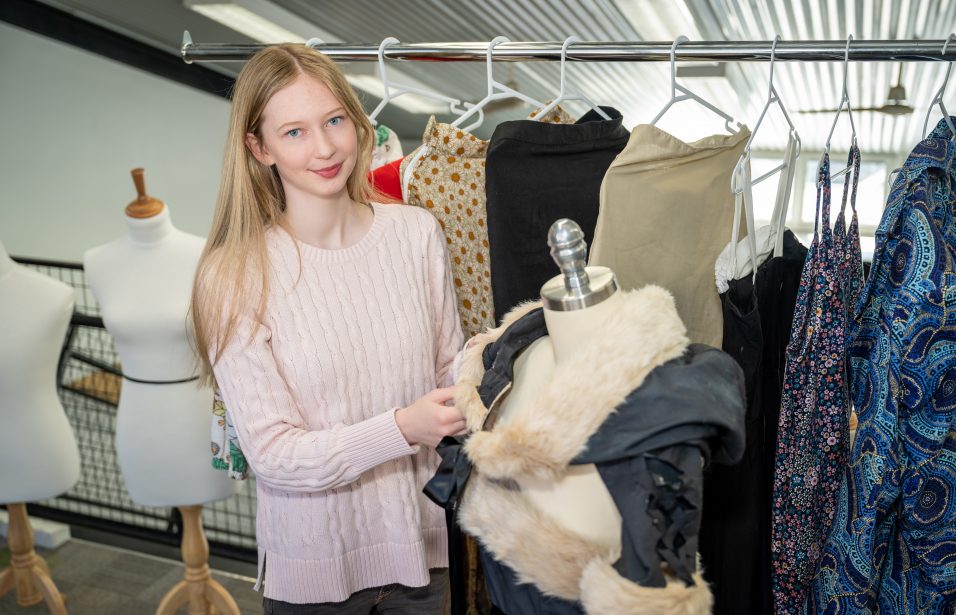 What did receiving a Radford Foundation scholarship mean to you?
Receiving the Foundation Senior Scholarship gave me the confidence to achieve and pursue further goals in life, such as moving to Sydney to attend UTS. Making a large move to a different school for Years 11 and 12 prepared me for the move interstate, which I may not have considered if I didn't get out of my comfort zone and try new things provided by the scholarship. The foundation scholarship allowed me to attend the school with the top results in the ACT and gave me a discipline and work ethic that helped me to achieve a high ATAR. Without the support of Radford, I may not have achieved this result.

You're studying for a double-degree – Bachelor of Design in Fashion and Textiles and Bachelor of International Studies – at UTS in Sydney. How did you find the transition to university?
I didn't find the transition to university to be too difficult as I feel my studies at Radford prepared me for the amount of effort and work required. Thanks to Radford, I was already comfortable with managing my assessments and creating a schedule allowing me to complete everything.

Were you always interested in design, textiles and international studies?
I have always been interested in art, design and sewing since a young age. This passion continued throughout high school where I took design and textiles in Years 11 and 12 at Radford. Doing this subject at Radford helped me to realise that fashion design was the path I wanted to follow at university as I thoroughly enjoyed the course. I also studied Chinese while in high school and wanted to continue a language learning element in my university degree. Doing a double degree with international studies allowed me to do so.

Outside of your studies, what do you like to do with your time?
I enjoy exploring the local area around me in Sydney, trying new restaurants and cafes and catching up with friends and family. I also enjoy getting involved in the various clubs and events at UTS.

What's your best Radford memory?
During my time at Radford, I enjoyed meeting new people and getting involved in the various community activities. Some highlights for me were Foundation Day and the Radford Revue, in which I helped out with the costuming.
What advice would you give to a student considering applying for the Foundation Senior Scholarship?
My advice would be to try your hardest to get the best results at your current school and be involved in lots of school activities. Also make sure to prepare for the interview, have potential question answers ready and be confident in your responses.

What are your plans for the future, including your career?
Currently I plan to finish my university degree and continue to gain skills in the fashion and textiles area. I hope to acquire more knowledge in these areas and see what path it leads me down. I also plan on doing a language exchange as part of my degree and would like to do some additional travelling after I finish my degree.