Nick Crean has put his job on hold as a Museum Educator at the Australian War Memorial (much to my 3 year old's disgust! He misses Nick during Friday's story time!) and is currently volunteering through the Australian Volunteers for International Development (AVID) program hoping to develop a love for AFL in young Papa New Guineans.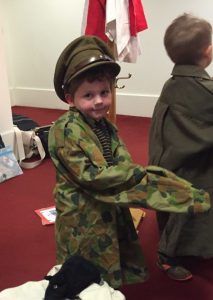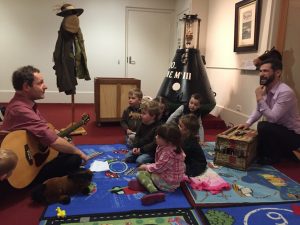 The Australian Volunteers for International Development (AVID) program is an Australian Government initiative that supports skilled Australians and permanent residents of Australia to contribute to Australia's overseas aid objectives. Australian volunteers make a real difference in developing countries by sharing their knowledge, fostering sustainable skills development, building the capacity of individuals, organisations, governments and communities, and cultivating people-to-people links.
I asked Nick a few questions about his time so far in Papa New Guinea …
What made you think about a volunteer role with AVID?
Opportunities like this do not come along often and a friend had recommended volunteering. I like adventure and had taken similar plunges before – not for the cash, but for the dash.  It keeps you fit.
 What role is it that you are performing in PNG?
Essentially, I am there to fill some gaps at AFL PNG (coaching Under 14s at the moment) and bring some improvements to office operations and procedures.  You need to celebrate the small wins in a developing country. E.g. I just changed the internet provider over, which has improved speed and is saving cash on the bottom line. It sounds boring, but providing solutions for efficiency is why I am there in the office. We can actually receive emails now without dial-up internet on late 90s speeds.
 What do you hope to get out of your assignment?
It might lead to life long memories and a taste of the Pacific lifestyle.  Everyone talks about Island time.  It's a bit faster-paced in POM (the capital) but you can take your time with things here. There is not as much pressure to succeed and tick boxes like we do back home.
 What do you hope to leave behind?
I always think of Australia as my home (and always will). I do consider us incredibly lucky people and, personally, I hoped to leave my reliance on that 'autopilot' comfort behind.  I have known and seen many Australians do great things overseas and I guess I wanted to emulate them and grow a bit.
 Why AFL in PNG?
What's not to love about AFL? As it continues its empire building phase around the globe (kidding) I thought I would like to be part of it.  In truth, though, I have coached and played footy for nearly two decades now.  I played in Japan in 2002 and met some passionate converts over there.  Some of them are still playing in International tournaments 15 years later! Good to see.  I also coached Women's AFL at ANU for three seasons and saw how some of those players and Radford's own Bec Goddard made it on the national professional stage in the inaugural AFLW 2017.
 What was your involvement in organising the PNG fundraiser event (allowing National teams to compete in the AFL International Cup in Melbourne)? 
AFL PNG as an entity was responsible for administering the travel of Men's and Women's National teams to Melbourne in August 2017 to compete in the AFL International Cup.  My part in the piece was to write a newspaper article that would drum up interest in the event.  I also worked to engage decorators and assemble memorabilia for auction at the fundraiser.  There were many special guests and cultural performers at the Dinner which made it quite the spectacle.  It was a shame that the keynote speaker's flight was delayed, at first, I found this tough, however, everyone got on with enjoying themselves.
 Is there a story you could share about a player from PNG that you have been working with?
Not so much a player but a few little stories from families.  Playing for your family is such a big deal here, which is nice.  It's the same back home in that you get little sisters and brothers wanting to follow in their older sibling's footsteps and play footy.  But here they will preach it and wear it as a badge of pride.  I was impressed with a young fellow volunteering to umpire with us and then I met his father when we went to a prison a few days later.  He had not mentioned that his father was incarcerated but when I met the Dad he really wanted to tell me how he was proud of his son and that he wanted to tell youths not to make the same mistakes he had.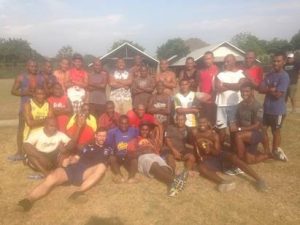 There's a picture of us at the prison after a training session in the yards. That was probably my most rewarding experience…hearing from those men about how they cope with being behind bars and what and who they think about.