Events
Radford Collegians Association – Annual General Meeting
October
29
08:15am – 08:45am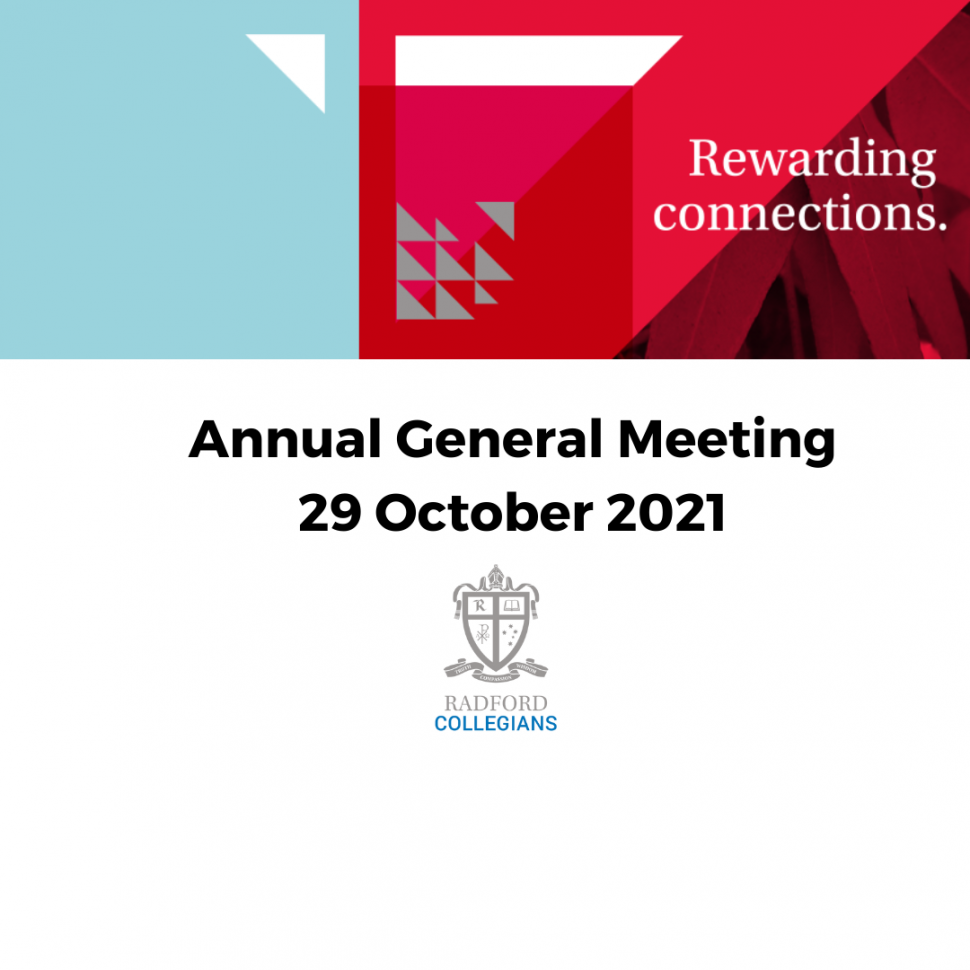 This year, Radford Collegians Association will hold the Annual General Meeting on Friday, 29 October 2021.
The Radford Collegians Association is about building a community that seeks to connect Collegians' to each other and to the College. The Collegians are committed to delivering on the following three core pillars:
Community & Social – Staying connected and proactive is a priority for the Radford Collegians. We host a number of community initiatives throughout the year that include Foundation Days, Reunions, Social Events, and sharing news and updates about Collegians.
Business & Career – Becoming a Radford Collegian provides individuals with greater opportunity, choice, and flexibility in the working world. Through member networking events, tutoring and mentoring, referrals programs, and access to scholarships in a range of professions.
Giving Back – Opportunities to sponsor, fundraise and student mentoring options are available.
WHY JOIN ? 
– Contribute to decisions that affect the Radford College community and Collegians Association.
– Build and strengthen the Collegian community.
– Develop professional and personal skills and experience.
– Make new friends or reconnect with old ones.
YOUR COMMITMENT
Please refer to the nomination form to see available Collegian committee roles. We encourage you to be involved to assist the Collegians in delivering on our core pillars of focus and to improve the overall experiences for new and older collegians.
In 2022 the Collegians will meet at 8:15 am on the followings days:
Term 1: Friday 18 February – Committee Meeting
Term 2: Friday 13 May – Committee Meeting 
Term 3: Friday 12 August – Committee Meeting
Term 4: Friday 28 October – Annual General Meeting
Depending on restrictions at the time, meetings can be held virtually or in-person (in the Radford College Boardroom).
The Collegians are supported by a full-time Administration and Communications Officer who is also the Collegians Public Officer and Secretary.
If you have any questions, please contact the Public Officer, Sona Michalkova on 02 6162 6293 or collegians@radford.act.edu.au