_related_users
H for History
H4H #18: Niraj Lal
From strength to strength, Niraj Lal appears to have spent his entire life kicking goals.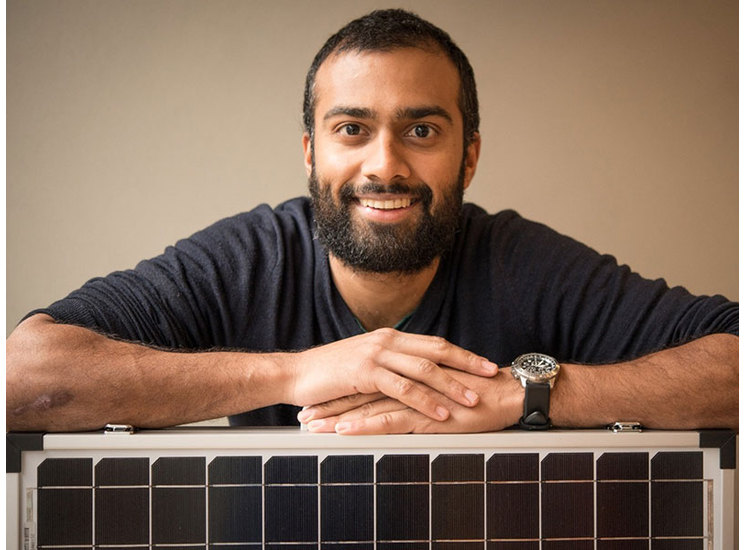 Do stuff. Get stuck in. Have fun. — Niraj Lal
It is hard to know where to start when writing about Dr Niraj Lal (Class of 2001). Nij is a much-loved father and husband – a family man who just happens to have a soft spot for nanophotonics and photovoltaics. He is also immensely generous: he has been donating 3 per cent of his income to charity since the age of 24, and has donated twice the amount of blood in his body to the Red Cross – a habit that 'first started at Radford'. He is an accomplished academic, scientist, environmentalist, educator, presenter and musician.
Within these fields he is a Cambridge PhD graduate and Gates Scholar, ABC presenter, Discovery Channel science expert (for Dr Karl), a children's book author, journal writer (including for an intriguing BBC online publication called The Naked Scientists), a travelling busker, founder of the Raio de Sol Canberra Community Samba Band, jazz enthusiast, primary-school science-show guru, digital activist against mass surveillance, radio presenter, TED-talker, passionate Greens member, Wikileaks supporter, solar enthusiast, cyclist, cricketer, surfer, former Radford School Captain and even a fine football player to boot – if you pardon the pun. When at Radford, Nij scored 'The Goal' which secured the premiership for the gifted Under 14 Division 1 side of 1998, which I happened to coach. This involved me simply pointing towards the field and saying, 'Try to score more goals than the opposition'.
So where does one start to specifically highlight a person who appears to have spent his entire life kicking goals? I guess one can only really ask Nij what it was in his childhood that made him so interested and so annoyingly good at everything? He cheekily replied, 'typical ethnic parents asking me where the other 5 per cent went if I scored 95 per cent on an exam. Also, their instilling in me a desire to make the world a better place – but I'm sure if my mum appreciated my finger-painting more when I was three, I'd be more chilled out today'. And while at school? In addition to a 'deep respect and appreciation for Radford's teachers who became our mentors' like many older collegians, Niraj was a fan of Friday Activities: 'If any Radford Executives are reading this – bring them back! In the age of Google, I reckon we can afford to skip two hours of classroom-content each fortnight to learn a new skill, sport, activity or discipline. Regularly trying a whole bunch of different activities gave us the confidence to give anything a go later on in life'.
Like Niraj, I am intrigued to learn more about new things and will ask for his opinion on ideas such as 'Dipole-field-assisted 
charge extraction in metal-perovskite-metal back-contact solar cells' – his latest publication in the Nature Communications journal. That aside, I cannot help but gravitate towards Niraj's children's stories for a similarly invigorating read. These books seem to utilise a selection of the many talents listed above. His first, Butterfly Flo and the Everything Effect is about a butterfly that learns about 'The Butterfly Effect of Chaos Theory' – the theory that a butterfly flapping its wings in Australia can cause a cyclone on the other side of the planet. In the follow-up, Henry the Emu That Could Fly, Niraj introduces his readers to 'physical concepts around flight and the motion of satellites in orbit'. You gotta love a picture book that encapsulates Newton's Theory. I personally cannot wait for the third in the trilogy. In fact, I think I will try these books out on my Year 1 Buddies (see H4H #7) on a free afternoon. Stayed tuned, kids.
Speaking about staying tuned, Nij is sparking curiosity as the host of a new ABC iView series called Sciencey. Nij explains the program's aim is to present 'science-by-stealth – with the ABC exploring new formats and styles for digital content. We gave it a crack to try answer some of the strangest questions in the universe'. These questions are answered in 5-minute grabs and are equal parts educational and entertaining.
Some of these include (click here to view the full list of episodes): 'How high can we build?', 'How does 
sunscreen work?', 'What's the loudest sound?', 'How do they predict the weather?',  'Why do earphones get tangled?', 'Are you addicted to your phone?',  'Will Australia have the last bees on earth?', 'Top 5 Things to know about Renewable Energy', 'Are we a Mass Extinction event?', 'How did Uluru form?', '5 things you need to know about climate change', and 'Can meditation make you healthier?'. I asked him which was his favourite episode and he replied, 'I think the best ones we made were the ones on meditation and sunscreen. I think we got some science across that could both help people be healthy and learn about the body and mind and universe. The editors were sharp and made me come across as funny, which couldn't have been easy'.
To conclude, I asked Nij to put icing on this article's cake by entertainingly explaining to readers, in 25 words or less, and without scientific jargon, just what nanophotonics and photovoltaics actually are. His response: 'Photovoltaics is the amazing ability to turn light energy into electricity. Nanophotonics is a refreshing drink made with small portions of Vietnamese soup'.
And he adds, with a glint in his eye, that he feels he has accomplished something in this life if only 'any science communication I've done has made a little one look at the universe with awe and realise that we can learn more about it through creativity, evidence-based reasoning, and an open mind'.
I'll go and read his books to my Year 1 Buddies. And get back to him with their reaction.
Hear Niraj read Henry the Emu
For prospective PHD Students, see Niraj's 'Letter to students considering a PHD'
Listen to Niraj lead the funky beats of RAIO DE SOL – a Community Samba Band
And for light reading, see: Lal, N. et al.: Transparent Long Pass Filter with Short-Wavelength Scattering Based on Morpho Butterfly Nanostructures, ACS Photonics 4, 741, 2017