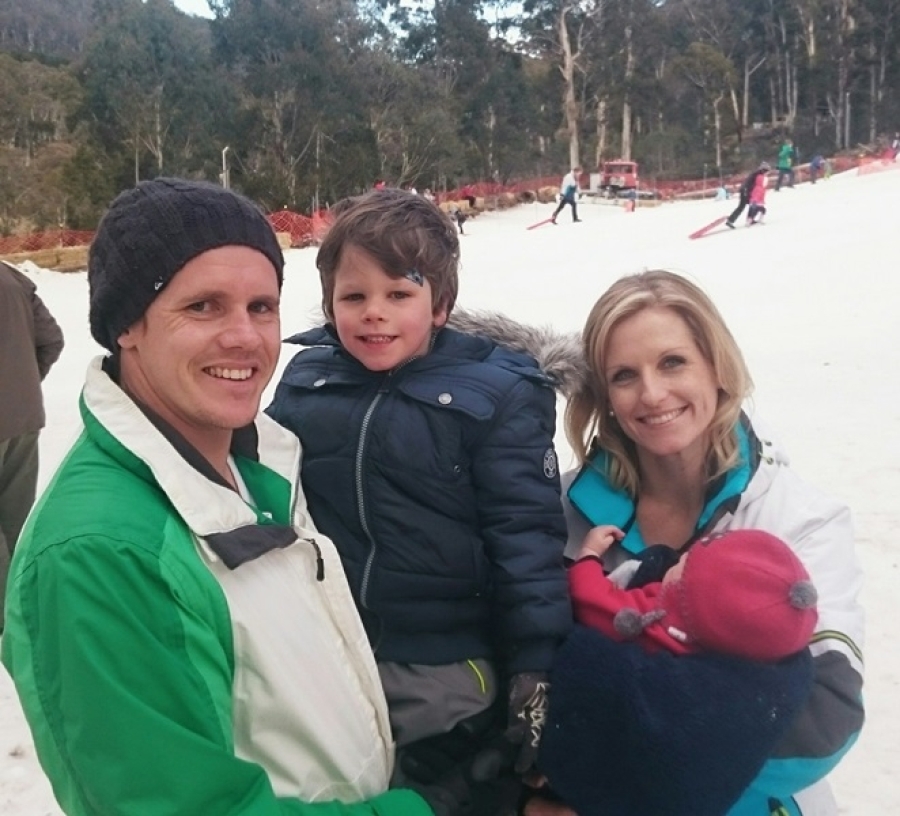 What does life look for you now?
I'm a mum of two kids, aged four months' and four years' old, living in Canberra. I work as a resident doctor at the Calvary and Canberra hospitals and am about to embark on General Practice Training in 2016 to become a GP. More than anything I enjoy spending time with my husband and kids and our extended family. I also enjoy playing soccer and have recently starting running for fitness and fun.
What is your favourite Radford moment?
Choreographing and performing in the Year 12 Fashion Revue.
How easy was it to decide what to do in life?
That is something you do when you grow up and I don't think I am there yet!
No, in all seriousness I think people misunderstand this question to be "what do you want to BE in life" (i.e. occupation). Truth is everyone will be a lot of things throughout their lives, some with multiple careers some with only one – you don't ever have to "decide" and even if you do "decide" you can change your mind! The real question is what do you want your everyday life to look like and what makes you happy?
Did your further study or career go exactly as you'd planned?
Definitely not. After finishing Year 12 all I wanted to do was be a dancer. I took a year off and worked three jobs for six months then travelled to Europe and the UK for six months settling in Edinburgh Scotland in the end and extending my trip so that I could stay overseas for Christmas. Upon my return I started a Psychology/Coaching Science degree at University of Canberra ... and hated it. After the first semester I quit and spent the rest of the year training to get into dance school in Sydney. I was successful and spent the next year completing my Certificate IV in Performance Arts at Brent Street Studios in Sydney. Though an awesome experience and a great achievement to have followed my dream and get as far as I could, I realised the dance/performance arts world wasn't for me and I returned home to Canberra. I went back to university this time doing a Bachelor of Human Biology with the view to follow this with a Masters in Physiotherapy, hoping to combine my two loves and become a Dance Physiotherapist. During my studies I continued to teach dance here in Canberra for a short time. In my second year of Human Biology I decided to try my luck at getting in to graduate entry Medicine while still applying for Physiotherapy to keep my options open. I managed to get into both courses and chose to study Medicine ... at age 25. I moved to Perth for university for 6 years, taking a year off to have my first son, and moved back to Canberra after graduation to complete my internship. During my intern year I was accepted into GP training to start in 2016 when I return from maternity leave.
What do you know now, that you wish you'd known when you were at Radford?
I always knew you should try your hardest and always put in 120% effort and aim for what you want to achieve. What I didn't realise back then is that the outcome or the result isn't the be all and end all - it's just an added bonus. It's about the learning, the process and how this shapes you as a person.
What advice do you have for current students?
Put in 120% effort into everything you do and try everything that interests you. Keep your interests and things that make you happy close to your heart. Challenge yourself with everything but don't lose sleep over anything – it's just not worth it. Your occupation doesn't define you, how you live your life does.
Anything else that you would like to share?
I think it is really important to show today's students a real picture of what life can be like and how different everyone's journeys can be, I wish they had something like this when I was at school – it would have saved me a LOT of stress!
Related Articles