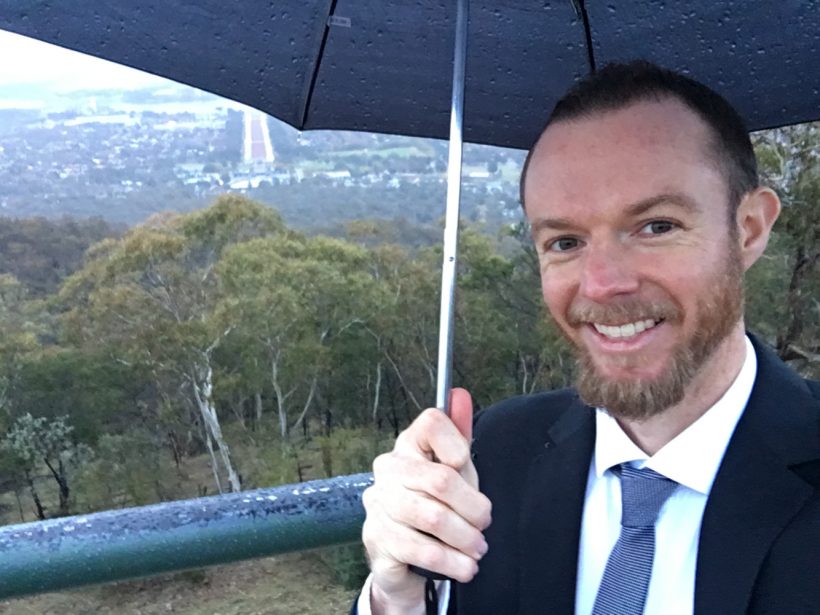 What does life look for you now?
Over the past four years I have been making the transition from a 10 year career as a Secondary School teacher to a career as a lawyer. I absolutely loved looking to inspire so many young learners to be the best that they can be (and I believe that being a teacher is the most privileged position in the world). Nevertheless, at the beginning of 2013 I felt compelled to develop aspects of my skill set further. I had always been interested in the law and politics so I decided to complete a Masters Degree in Juris Doctor at the University of Canberra (basically the Juris Doctor is a law degree for people that didn't study law for their undergraduate degree). I graduated from the course in September 2016 and subsequently completed the requisite Graduate Diploma of Legal Practice with the College of Law (NSW). I have no regrets at all! While completing my practical legal training, I worked three days a week as a law clerk at the Aboriginal Legal Service's Redfern Office, while continuing to work as a casual teacher in Canberra on Thursdays and Fridays. I was admitted as lawyer in June this year. A large portion of the rest of my time is spent training for running events and triathlons, doing yoga, writing music, performing music, watching quality cinema and live performances, keeping up to date with current affairs, as well as evolving my startup, 'Peacem8tes'. Balance is so important! My candidacy as an Independent for the seat of Fenner in the 2016 Australian Federal Election was supported by all of the above.
Tell us what you are passionate about?
Since I was a kid I've been fascinated by the connection between the power of words, politics, 'the sports park' and the performing arts. These days I spend my days upholding that. Certainly since my late teenage years, I have loved singing, playing the guitar, football (soccer), running, the opportunity to be a leader for others, challenging myself physically and mentally, self improvement. Social justice is particularly important to me and I am currently exploring some opportunities to do volunteer advocacy work abroad.
When you were young, what were you hoping to be when you grew up?
When I was young I was most interested in being a lawyer, a singer, or a professional musical theatre performer.
What is your favourite Radford moment?
I loved Senior School at Radford College, particularly English classes, as well as the opportunities I had to perform in the College's annual Musical ('Patience') and Drama (Caucasian Chalk Circle) performances. Being Captain of Choir when the Radford College Senior Choir toured Europe in 1998 was an unbelievable experience, both culturally and musically. Fantastic.
Do you have a particular role model or inspirational figure from Radford or now?
The English Department staff at Radford were *amazing*. I had Pat Craddock in Year 7 which was a great way to begin my studies. I did a Double Major in English in College and was fortunate to have John Foulcher, Moya Pacey and Luc Rose as teachers. They brought literature and creative narratives to life in a way that I am eternally grateful for. Each of them has shaped the person I am today. Particularly John Foulcher. I was also lucky enough to work alongside him for a number of years while I was a teacher of English at Burgmann Anglican School and he was Head of Senior School. Remarkable man.
How easy was it to decide what to do in life?
If you are genuinely interested in a range of career pathways, 'saying goodbye' to any of those options can be challenging, indeed unnecessary. Who is to say that you might not find a happy blend that allows you to keep a variety of pathways moving forward? Certainly if you view yourself as someone who 'dreams big', the biggest challenge can be allowing yourself to respect that.
Did your further study or career go exactly as you'd planned?
Certainly not. When I first left College I would have never seen myself becoming a Teacher, but it ended up being one of the best decisions of my life. I was also caught by surprise by how much passion I developed for elite soccer coaching, stemming from my initial days coaching Radford College junior teams while at University. Around 2009-2012 I was very much considering becoming a professional coach and was active in the advanced coaching courses pathway both in Australia and the UK. Interestingly for me, my move 'back' to a career pathway as a lawyer and into the political sphere, while developing my creative projects 'on the side', is where I first thought I would be ?
What do you know now, that you wish you'd known when you were at Radford?
Nothing. It really is about the journey.
What advice do you have for current students?
Honestly, 'the wisdom of youth' is one of the most powerful things in the world. The person that you think you are capable of becoming, you are indeed. Just do it. Seriously. Certainly, be open, indeed a 'sponge', to all the great wisdom and advice provided along the way, but 'you know best' as to what is right for you and what you are capable of. It is weak to let others cloud that. Period.
Anything else that you would like to share?
Life is nothing more than a brilliant opportunity.
Plus, don't take yourself too seriously.