_related_users
H for History
H4H # 9 – Lisa Moloney, Lynne Guthridge, Tim Bowden and Allan Shaw
If you are courting any ambitions to become a school principal, you could possibly be aiding your future aspirations by joining the Radford staff. This piece is the first of (at least) two articles written about former Radford teachers who have departed the rose-scented turning circle and headed down College Street towards new challenges as a leader at other schools.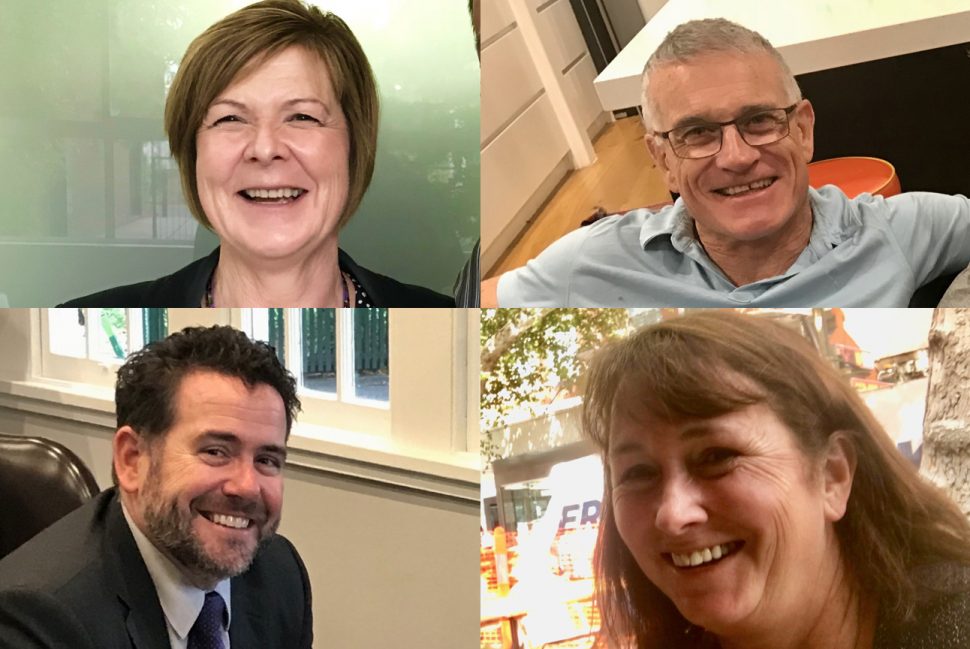 LISA MOLONEY
Lisa Moloney, former Deputy Principal, Head of High School at Radford, was recently commissioned as principal of MLC in Sydney, an event attended by her two children Amy and Tom, and one which also saw her surrounded by a veritable cluster of Heads, including two former Radford leaders, David Mulford and Phillip Heath, and former Deputy Principal, Head of Learning and Teaching, Peggy Mahy (now principal of The Scots School Albury). On leaving Radford, Lisa was principal at St Paul's Anglican Grammar School with twin campuses at Warragul and Traralgon in Gippsland, Victoria. She has fond memories of Radford as a school with "a standard of excellence" but also as a school which did not lose its sense of fun. "For an academic school, it didn't take itself too seriously… Sometimes (fun) can be lost as schools get bigger and there's a lot of pressure on all of us around meeting deadlines, performance targets and academic success. Ultimately you want people to come to work, or to school, and to go home with a smile on their face at the end of the day, even if there have been tough moments."
When I pushed Lisa about where she exactly found fun and fond memories in her time at the college, as both a teacher and a parent, she enthusiastically recalls:
Year 9 Outward Bound Camp
the Music Department – Lisa is an accomplished double bass player who appeared in the orchestra of many school musicals and who feels "sometimes we underestimate the role of performing arts in building community"
teaching the "tricky kids" and helping them "get to the other end as great young people"
the "ethic around service", which she observes in the "outward-looking" way her children approach the world, for example her daughter Amy's involvement in voluntary literacy and numeracy programs in Minyerri
Fr Richard's brave and respectful whole year chapels with "communal stillness"
Valentine's Day "with all the kids giving love hearts"
cheeky Year 12 Revues and Year 12 final Assemblies.
Lisa hopes to be remembered as an educator who cared and "did the best by the kids… and who could make the journey as positive as possible." I reassured her that this was very much how she is remembered.
TIM BOWDEN 
Tim Bowden taught English and Media at Radford College between 1994 and 1995.  He was also a part of my makeshift staff touch football team which challenged students to lunchtime State-Of-Origin style exhibition games. I recruited a trainee teacher named George Gregan to the staff side and we subsequently quite easily accounted for the opposition.   I do recall a pass from Gregan that I "caught" on the wing which propelled me into touch and then onto Yass. I had also advised the upstart to perhaps not replicate "The Tackle" on any of our students. After leaving Radford, Tim went to Theological College and was ordained as an Anglican Minister before being appointed principal at Inuburra School between 2011 and 2017.  This year he was commissioned as only the third principal since World War II at Trinity Grammar. He is married to collegian Nikki (Class of 1990) and has three daughters.  His two sisters attended Radford – Mandy, a foundation student from the Class of 1988 and Wendy, Class of 1994. Tim's association with Radford was seemingly unavoidable, as his parents were part of the initial lobbying group for the establishment of Radford College.
Aside from lunchtime football success, Tim's memories "as a coal-face staff member" at Radford are very people-oriented: he warmly mentions his tutor groups (11TB and 12TB) and he notes the influence of staff such as our two longest-serving staff members, Boyd Gibson and Richard Wardman, as well as Molly Brownbill, Peter Dodd, John Foulcher, Vic Gibbons, and Foundation Principal, Jock Mackinnon.  Deputy Principal John Leyshon advised Tim, as an egocentric beginner teacher with aspirations of being "a Renaissance Man involved in every aspect of the life of the school", to focus, perhaps with less pomposity, on the students' welfare: "The way we see it," advised Mr Leyshon, "we want the students to come away knowing that you cared." Like Lisa Moloney, Tim shares a fondness for Year 9 Camp as well as musical theatre, especially the comic-book extravaganza "Man of Steel" which saw his sister-in-law Sally involved, as well as a large portion of his tutor group,  including Ryan Wilson in the title role and abseiling harness! "Look at where Radford is now," Tim concludes, "the school has done so very well. There was something set early in the piece which I didn't appreciate at the time. For the school to be where it was at that 10-year mark is quite an achievement. To look at where it sits now is fantastic."
LYNNE GUTHRIDGE
Lynne Guthridge was Head of Learning and Teaching at Radford College between 2003 and 2008, before accepting the role of principal at Northholm Grammar School, a K-12 school situated close to the Hills District, the upper North Shore and the Hawkesbury Valley. She speaks with admiration for the charismatic leadership of David Mulford.  She credits Dr Mulford with having the  insight necessary to create "an incredibly dynamic campus", including the realisation of "many significant building projects – I think we counted something like 17 major building projects in the time we worked with David." She laughs as she recounts how David Mulford would sometimes arrive with ideas notated on napkins. "I always used to feel a bit nervous when David arrived in my office with crumpled-up serviettes with his next plan on it." And so, I ask, what salient dot-points from the "Mulford era" would be scribbled onto your own napkin of Radford's 35-year History? This period of rapid and extensive growth included the introduction of Years Five and Six, the establishment of the Early Learning Centre and the arrival of the Junior School. "There were parallel streams happening in the Mulford period: as well as the development of arts, sports, academic programs and a very well-conceived building program". Lynne speaks of the IB Primary Years Programme adopted by the Junior School as "a natural transition from the Reggio Emilia approach of the Early Learning Centre" and applauds the dynamism of the early leaders of both programs, Paul Southwell and Tanya Stephenson whom she describes as "wonderful educators."
Other highlights for Lynne during this time of growth include:
the improvement in the school's academic results as well as "the emerging sense of social justice"
unforgettable Chapel and Easter Services by Fr Richard Browning and Fr Nikolai Blaskow, notably a BBQ in the chapel "demonstrating the miracle of the loaves and fishes"
magnificent moments in the Drama and Music Curricular and Cocurricular Program. "I did an observation of Joel Copeland's teaching and without doubt it was the best Year 7 class I've ever seen";
the realisation of the palpable "Head, Heart and Hands" tagline from this period, where students "realised they had to work to get the outcomes they achieved, while knowing that they were in an environment where they were supported. I think the kids saw there was purpose in what they were doing."
She adds, "I don't think there was any doubt amongst the students about their future. Whatever it was within the environment, it promoted hope. And I think that's really essential." Lynne is certainly to be thanked for the part she played in nurturing that environment of optimism and confidence.
ALLAN SHAW
Allan Shaw, former Deputy Principal, Head of Senior School, left Radford in 2014 to become principal at The Knox School in Wantirna South, Melbourne. He had previously been founding Principal of Peter Moyes Anglican Community School in Perth. As a Radford parent, Board committee member and staff member, he was able to "meet, mix with and learn from a diverse range of people, a few of whom are significant figures in their own fields of endeavour. I am thinking of teachers, principals, chaplains, senior adult leaders in the school and some of the best student leaders I have come across in my four decades in schools." Allan speaks warmly about the college's "strong academic culture, combined with an almost unique style of student agency…The prevailing student culture is one where they are prepared to speak up, get up, and get going. They speak their mind politely but with considerable fluency and strength. They will take on a challenge; they will challenge that which they feel is unjust or iniquitous. They are courageous. They work hard and they contribute." And that contribution comes not solely from the students.  As Allan observed, "I have seen very senior people in the school and its community, including principals of the school 'mucking in' to stack chairs, sweep floors and clean up at the end of an evening function. I have seen young students and students from other schools being assisted by senior students in caring, but also empowering, ways."
Like others I have interviewed for the school history, Allan mentions the school cross-country carnival as a unique gathering, particularly the recent shift "…from an afternoon that was OK for the elite runners in the school and a very ordinary afternoon for everyone else, to a whole school event. Music and entertainment was provided by students, as were food stalls and BBQs. Every student in the school was involved, from tiny little people through to the young adults, with the highlight seeing the 18 year olds helping the 5 year olds run around their short course." This care for others was also noted when seeing Black Mountain School volunteers and teamSUPPORT boys, including his sons, Reilly and Cassidy during their time at the college, and partner (also a former staff member) Susan Hobson, who assisted as a mentor. Allan is quick to add that it was the "servers" who were in fact learning from the students in their care "with very different intellectual and physical capacities. It was a privilege to be able to learn from these people!" In conclusion, Allan applauds Radford's "propensity and the capacity to provide a 'home' to some very quirky people; people that would not be able to function comfortably in many other places, be they students or adults. That sense of inclusiveness and acceptance I saw as a strength of the school. People could be themselves." The part he has played in building that feeling of belonging should not be undervalued.
The four now-principals interviewed above have been stellar role models for current and future leaders among staff, parents and the student body. Their wise insights have displayed not only what we do well at the college, but also what is woven deep into the fabric of the Radford experience. To me, it is a lot about building: community, knowledge, understanding, imagination, compassion and confidence and more. And also about walking alongside each and every member of that community in friendship, in solidarity and with utter respect.