_related_users
H for History
H4H #8 – Celebrated guitarist Callum Henshaw (Class of 2008)
Callum Henshaw, collegian and professional classical guitarist, is a living advertisement for the benefits of going on school trips overseas.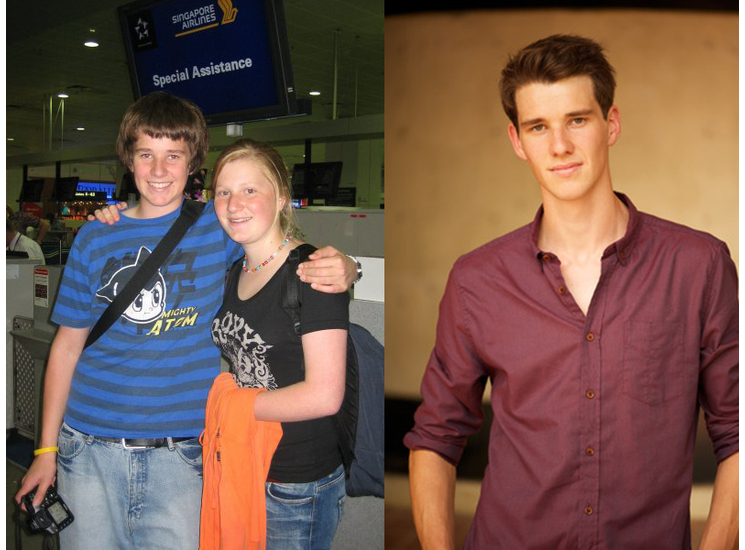 'If you get the opportunity to go on a school exchange – go! The maturity you develop and the skills, language and connections you can make are invaluable.'
Callum Henshaw, collegian and professional classical guitarist, is a living advertisement for the benefits of going on school trips overseas. He identifies an exchange trip to Germany while in Year 10 as life-changing: 'By far the most long-lasting experience I had during my time at Radford was the opportunity to go on exchange to Hamburg, Germany. That one experience changed the course of my life, providing me with a second language, a lifelong friend and second family, and ties to the current cultural hub for classical guitar.' Cal certainly made the most of those ties and, since leaving Radford College in 2008, he has become one of the country's leading young guitarists, winning awards and prizes for his playing almost annually. These include being First Prize at the 2012 Cordoba International Guitar Competition and the 2014 Tirana International Guitar Competition, and First Prize and the People's Choice Prize at the 2016 open instrumental Whitworth Roach Classical Music Competition, to but name a few. (I've attached a list of his other distinctions below.)
For those current Radford students uncertain about their future career pathways, he encourages patience in finding your muse: 'Music was always something I had pursued as an extracurricular activity and had not entertained the prospect of pursuing it as my main focus. With the encouragement of my guitar teacher, I auditioned for the ANU. It wasn't until I was mid-way through my second year of university that I realised it was a possibility.' That said, he does have more general advice for students who perhaps live in daily chaos and shambles while at school: 'I wish I had known that being organised was not only easy, but reduces my stress and anxiety.' Cal must have certainly got his organisational act together by his final year at the school, as former staff member, Dr Glenn Burns, identifies Cal's recital at Year 12 Graduation that year as one of his highlight student performances while at Radford College.
Cal is presently in the final year of his doctorate in music at the ANU School of Music, fully focused on studying and rehearsing the classical guitar. He now regularly travels to Europe to play in classical music festivals and guitar competitions. Later in the year, he will release a second album and, on the strength of winning the Melbourne International Guitar Competition, will embark on a 14-concert Australia-wide album launch tour. It will be one for us all to watch out for. But for those in the Radford community curious to hear him play sooner, he is about to perform (alongside side Matt Withers and the National Capital Orchestra) in an evening of music with an especially Spanish flavour at Llewelyn Hall on 7 April. (Performance information here.)
I asked Cal earlier this year what he felt was unique about his education at Radford and perhaps may have played even a small part in shaping the impressive person/musician he has become. He replied, 'The perpetuated culture of respect. Respect between students, and between students and staff, that is wordlessly maintained. It is one of the more intangible elements of the school'. Of his time at Radford, he warmly remembers Mr Paul Willetts, who encouraged the German exchange mentioned above, which he deemed 'ridiculously healthy for my career'. He felt Mr Willetts taught him 'more than just language, but also about motivation to learn and critical analysis'. (I refrained from asking if he performs with his shirt tucked in and socks pulled up.) One of his English teachers, Kate Wales, helped him to realise that sometimes the subject matter is almost inconsequential if the teaching is outstanding! Both these teachers developed in him the confidence to chase his dreams and he credits them as the reason he finally found himself under the mentorship of one of Australia's leading instrumentalists, guitarist Tim Kain. 'As I move through life,' he reflects, 'I realise that my role models have always been outstanding educators'.
Callum certainly repaid his role models by becoming one himself, when in 2014 he impressively performed three movements from 'Collectici íntim' by Asencio at the 2014 Foundation Day concert at the Wesley Music Centre. It was a performance which will remain in the memories of all of the young musicians attending that evening (photo above).
If you want to sit back and listen to some vital, vivacious and inspired playing, with superb technique that has plenty of heart to match the skill, catch his current album Echo and Return. In fact, after I hit 'Send' on this article, I think I will do just that.
Callum Henshaw's awards:
2008: 1st Prize – National Eisteddfod Open Classical Guitar
2012: 1st Prize – Cordoba International Guitar Competition
2013: 1st Prize – Sydney Eisteddfod Instrumental Duo Competition with Campbell Diamond
2013: Best performance of an Australian Work – Melbourne Guitar Competition
2014: 1st Prize – Tirana International Guitar Competition
2014: 3rd Prize – Adelaide International Guitar Competition
2015: 1st Prize – Friends of the School of Music Chamber Music Prize with Andrew Blanch
2016: 1st Prize – Whitworth Roach Classical Music Competition
2016: People's Choice Prize – Whitworth Roach Classical Music Competition
2017: 1st Prize – Melbourne International Concert Artist Guitar Competition