It represented the potential of integrating creative and performing arts to engage all of our ELC children, educators, parents, extended family and school community. Brenda Lander
Every child had a role, every staff member enlivened the colour and movement, every parent had a tear in their eye and every member of the College community drew together to stage one of the classics of the musical theatre repertoire. Phillip Heath
In 2006, Robyn Evans and Brenda Lander, had a dream to make a four panel 1.8-metre high teepee out of felt. The recently appointed artist-in-residence and music specialist of the newly built Early Learning Centre had a lofty aim. They wanted to create a community of learners, of all ages, engaged in drawing, storytelling, singing, movement, listening, instrumental performance and, of course, the elaborate felt-making process. Neither had any doubts that their dream would become a reality. "It was a super-big idea," admits Brenda Lander.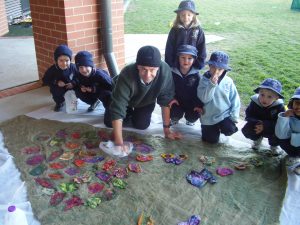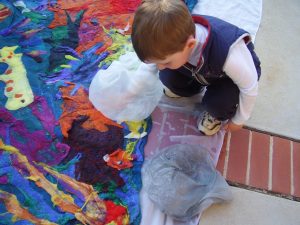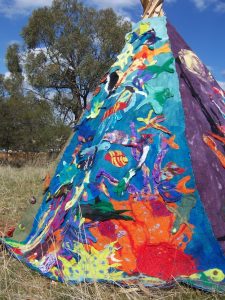 "When the staff opened the doors to parents to participate," explains Robyn Evans, "we experienced a wonderful sense of community connection and shared learning that reverberated beyond the life of the project … There was a wonderful synergy of ideas and processes that took place." During evening family gatherings in the ELC Piazza, participants could be found squelching warm, soapy water onto each panel of the teepee. "All areas of the ELC including the vegetable patch and even the ELC bathrooms became a hive of industry for trampling felt panels with oversized gumboots," explains Brenda. "In classrooms our many family members and the extended community worked tirelessly with the Bilbies, Echidnas and Bunyips to create their own original felted autumn leaf, sea creature or flame of fire."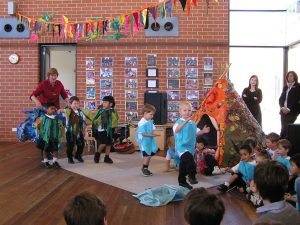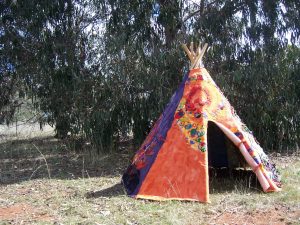 The accompanying performance was equally as ambitious with each Pre-Kindergarten child researching, designing and painting their own costume to eventually transform them into flames of a smoky bushfire or perhaps into creatures that lived underwater and around trees. This was followed with the little 'flames and creatures' learning songs and choreography based on the themes of autumn, fire and ocean.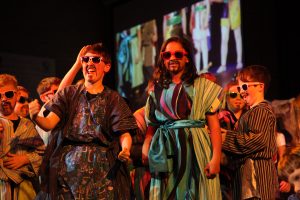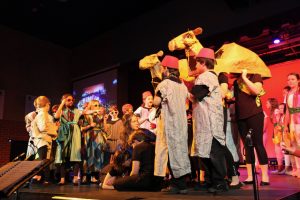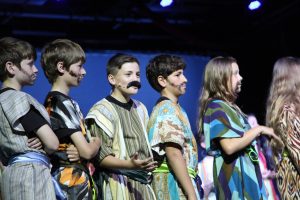 As our inaugural Early Learning Centre Director, Tanya Stevenson, commented: "This traditional home of a nomadic family became a place where children could feel safe, secure and engage in wonderful imaginative play." And what better way to start life in the ELC then with a magnificent and monumental piece of artwork which remains a treasured memory of our foundation ELC children, educators, families and extended community to this day. As Brenda Lander concluded, "It represented the potential of integrating creative and performing arts to engage all of our ELC children, educators, parents, extended family and school community. It also informed future creative explorations within the Early Learning Centre and Junior School."
Perhaps the fruits, if not spirit, of this creative and collaborative endeavour were to be emphatically seen seven years later when the TB Millar Hall was transformed into Ancient Egypt – and a collection of other exotic Old Testament settings. "Can you imagine casting every student from Pre-K to Year 6 to dance, sing, act and spread their joyous love for the community?" former Principal Phillip Heath recently asked in another H4H article. Alongside Head of Junior School Paul Southwell, this formidable pair shrewdly chose a musical classic by another possibly less famous duo, Tim Rice and Andrew Lloyd-Webber, and the audacious 2013 Junior School production of Joseph and his Amazing Technicolour Dream Coat was born. "The tactical and organisational genius of Tracey Markovic ensured that the stresses of the large-scale event were transformed into a source of deep nostalgia," credits Phillip Heath.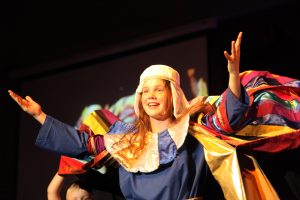 As Year 11 student Will Goodchild recalls, "Mr Philip Heath was well known for the extravagant and well thought out productions he directed. This was one was no different, and as it was his last year as principal, and therefore his last production, he went all out. Rehearsals began in Term 1 and the production was in Term 4. Over two terms of solid rehearsals – this was a first for the Junior School. It all paid off though."
In perhaps a nod to the ELC teepee, audiences entered the TB Millar Hall through a 'time-tunnel tent' and were taken back to a place where, well, any dream would certainly do. This was certainly a production with many quirky, cheesy, colourful and crazy moments. Fondly recalling the event recently, Phillip Heath asked us once more to close our eyes and draw back the curtain: "Can you imagine Pharaoh (Year 11 student Joel Cooper) being brought into the TB Millar Hall on the back of one of Radford's famous golf carts disguised as a chariot? Can you imagine Paul Southwell wearing dark glasses and acting as Pharaoh's Elvis style bodyguard? Can you imagine Joseph singing 'Any Dream Will Do', with the entire audience providing the backing vocals?"
Musical Director Michelle Xerri certainly could imagine the latter. As she recounts, "The synergy and camaraderie amongst the cast was palpable during the reprise of 'Any Dream Will Do' with Xanthe Allen shining in the role of Joseph, joined by the talents of the cast of Narrators and chorus ensemble." Michelle remembers being swamped with vocal talent: "It became apparent in the audition process that the talent amongst our Junior School performers was significant resulting in the role of Narrator to be split amongst several students so that the singing and acting skills of many could be showcased."
As another Year 11 student Lachlan Baker recounts: "I remember Mr Heath singing the songs for us at rehearsals, showing us how it's meant to sound. I also remember all of us getting 'fully' miked up on the night and feeling super professional." I asked Lachlan what roles he played in the extravaganza and he replied: "I played one of Joseph's brothers as well as the Baker (ironically). I wore a mascara beard in the first act as the brother then had to run back stage wipe off the beard and change into the baker's costume."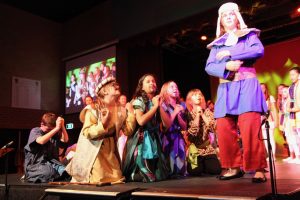 Will Goodchild indicates that "of particular note was when the Pharaoh was delivered onto the stage by one of the groundsman's carts which was driven down the centre aisle by Mr Health." After Joel Cooper delivered his song a la Elvis Presley, "the cart was reversed back out of the hall, reversing siren and all. For my Year 6 self, the spectacle was nothing short of breathtaking, and the fact that the Principal of the school not only facilitated it but came up with the idea was mind-blowing." Lachlan concurs, "Joel Cooper played a pretty convincing 'Elvis Presley' Pharaoh. Riding down the aisle on the back of a golf cart or something like that. He did the full voice too."
Perhaps the technicoloured dreamcoat, along with a veritable fashion parade of costumes, was another showstopper worthy of mention. As Michelle Xerri observed, the coat "was undoubtedly a highlight of the show with its kaleidoscope of costumes" alongside the "fabric waving choreography and chorus of singing about the wonder of Joseph's technicolour coat. The dancers were required to master everything from ballet to boot scooting and what a joy they were to watch."
The 2006 ELC Teepee Project and the 2013 Junior School Production of "Joseph" both displayed and repaid all that was invested when dreaming 'super-big' in creative, colourful and collaborative artistic endeavour. As ELC Teacher Assistant Ms Wally Reid (2006-2014) attests: "The Teepee Project was the catalyst that united the ELC staff, families and children and reflected the energy and strong commitment to our Radford Community". Her words echo those of Phillip Heath who came to conclude: "What we lacked in polish and refinement, we more than compensated for by the sheer delight and exuberance of an entire school building a memory for everyone involved."